Arab Weather - The latest satellite images and weather monitoring data received indicate the presence of cumulus clouds in the northeast of the Arabian Sea, and forecasts indicate the possibility of its development within the next 48 hours into a tropical depression.
Where the weather forecasters at the Arab Weather Center said that forecasts indicate cumulus clouds in place in the northeast of the Arabian Sea without an address, coinciding with a gradual decrease in atmospheric pressure during the next 48 hours, which is a sign of the development of tropical turbulence, as it is likely to rise to the level of the tropical depression. (Tropical Depression) according to most computer modeling outputs.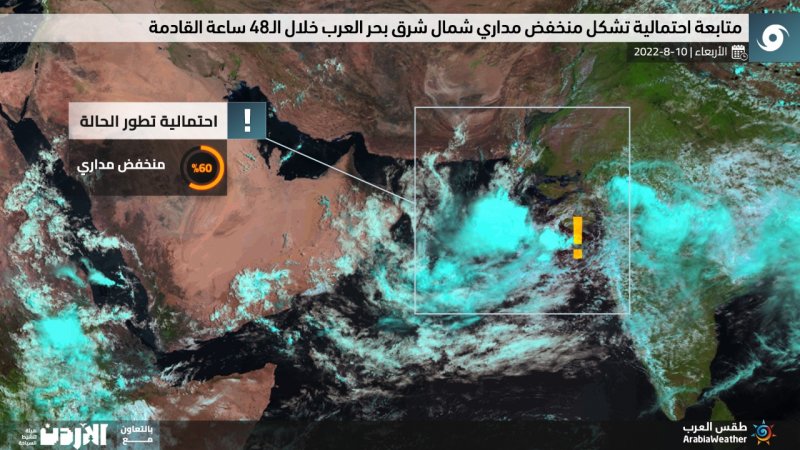 The path of the tropical state is still uncertain, as it is difficult to determine the path inevitably and accurately before its formation on the ground, as the possibilities are distributed between India, Pakistan, Iran and Oman, with a relative preference for the northeastern Arabian Sea towards the Pakistani coast.
Atmospheric conditions surrounding the tropical state
One of the important things for the development of tropical conditions is the weakness of the shear winds, as these winds weaken and limit the vertical growth of cumulus thunderstorms, meaning that they impede the process of increasing the thickness of the clouds, and thus become shallow and stratified and thus weaken the tropical system. In our case, the shear winds are highly active as a result of the dominance of the monsoon winds and the eastern equatorial jet stream, especially the southern and central Arabian Sea, and thus some computer predictions sense the inability of the atmospheric system to develop into a tropical depression under these conditions. While many other computer models indicate the development of tropical turbulence into a tropical depression as a result of its self-feeding from the surface of the warm waters of the northeastern Arabian Sea, therefore, numerical atmospheric models suffer from great difficulty in the process of monitoring, predicting and simulating tropical conditions, especially before the formation of the tropical depression, In addition to the many weather variables.
The specialists in the Operations Department at the "Arab Weather" Regional Center for Meteorology and Forecasting periodically review (around the clock) the outputs of the analyzes of weather readings and issue updates/reports if necessary, God willing.
This article was written originally in Arabic and is translated using a 3rd party automated service. ArabiaWeather is not responsible for any grammatical errors whatsoever.