Weather of Arabia - The capital, Muscat, was affected on Tuesday morning by the direct effects of the cold air front, so that thunderstorms multiplied and large amounts of rain fell in a short time, to form torrential torrents that stormed residential neighborhoods and markets, washed away vehicles and caused extensive property damage.
The rate of precipitation is sufficient to form torrential rains
The rain falling on Muscat is twice its monthly average
In the details, the data of the stations of the Ministry of Agricultural and Fisheries Wealth and Water Resources in the Sultanate showed that large amounts of rain were recorded in the wilayats of the Governorate of Muscat, reaching the highest in the Wilayat of Bawshar at 110 mm, then Seeb, which also recorded similar amounts of 108 mm, and these data and values if compared The average rain for the month of January indicates that the wilayats of the Governorate of Muscat have achieved double their monthly average within a few hours, and the rainfall rate (the amount of rain that falls per hour) is considered very high and capable of forming torrential rain.
Read also:
Sultanate of Oman | Huge amounts of rain and the most precipitation in the past 24 hours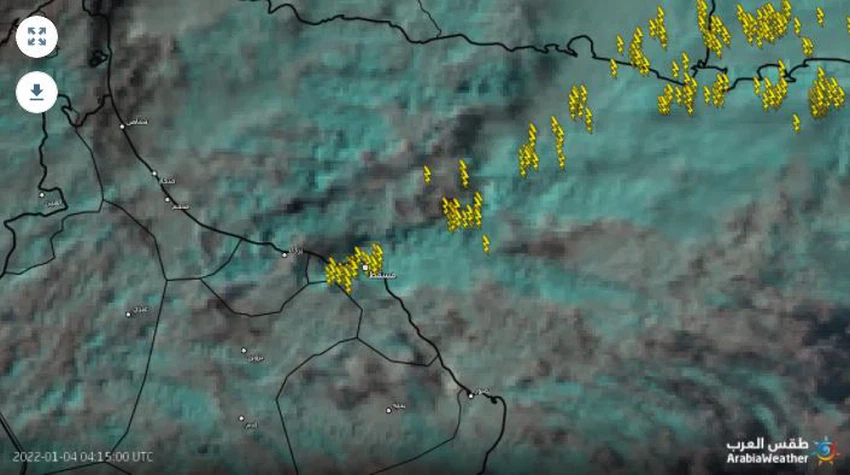 (The cumulus thunderstorm cell affecting Muscat on Tuesday morning, bringing with it large amounts of rain)
Recently, the term climate change has been widely circulated and linked with the high precipitation, and here the Arab Weather Center explains that it is unambiguous that the planet is experiencing climate change due to various factors, perhaps the most prominent of which are the natural climatic cycles that the planet goes through, and urban sprawl, side by side. With other factors, however, specialists confirm that the exact details related to the amounts of precipitation cannot be directly linked to the phenomenon of climate change, and the most prominent reason remains the distribution of air masses and ocean water temperature is the main factor after God's will.
This article was written originally in Arabic and is translated using a 3rd party automated service. ArabiaWeather is not responsible for any grammatical errors whatsoever.