Arab Weather - The second wave of the Corona virus in India caused a catastrophic crisis in the country, which filled hospitals and crematoriums, and caused a widespread shortage of oxygen and medicines, and in this report we review the details of the crisis in numbers and pictures, and the procedures through which the authorities are trying to remedy the crisis.
Record numbers of injuries and deaths
The numbers of infections and deaths in India continue to rise rapidly, driven by the spread of the mutated Corona virus, and the country recorded a record number of infections on Monday - for the fifth time in a row - as well as the highest daily number of deaths.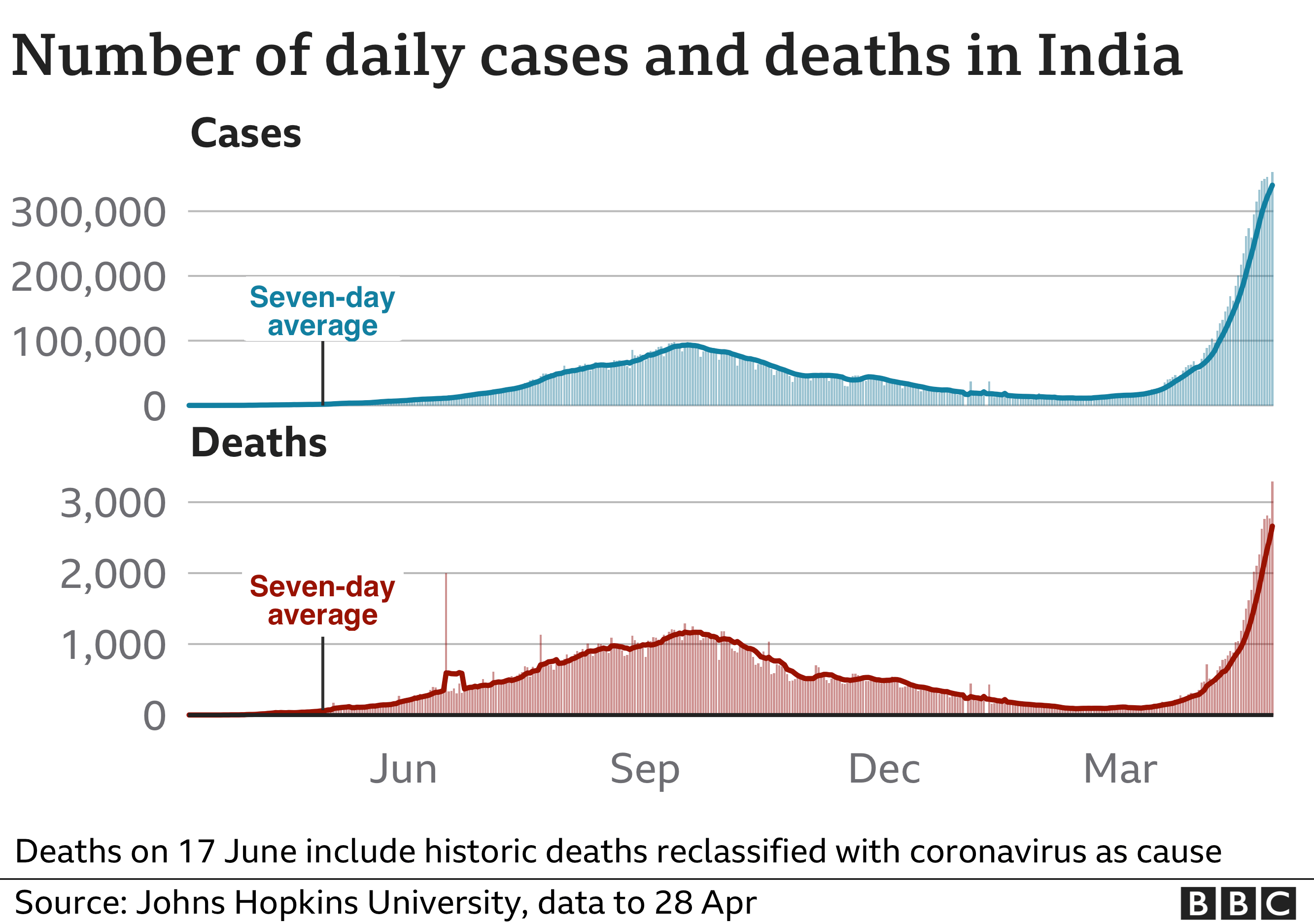 (Infographic showing rising numbers of injuries and deaths in India. Updated April 28)
The real numbers of injuries and deaths are likely to be higher than the numbers provided by the authorities, as many people avoid or have difficulty accessing the test, and many deaths in rural areas are not recorded.
Doctors in the Indian capital, Delhi, have described how people are dying on the streets outside hospitals as the country struggles to contain the crisis.
In total, there are more than 17 million confirmed infections and 200,000 deaths. Virologists say they expect the infection rate to continue to increase for another two to three weeks.
A significant shortage of hospital beds
The country suffers from a chronic shortage of space in intensive care wards, as many families of patients are forced to drive miles trying to find a bed for their loved ones.
In Delhi - which has a population of about 20 million - hospitals are overwhelmed and unable to receive more patients.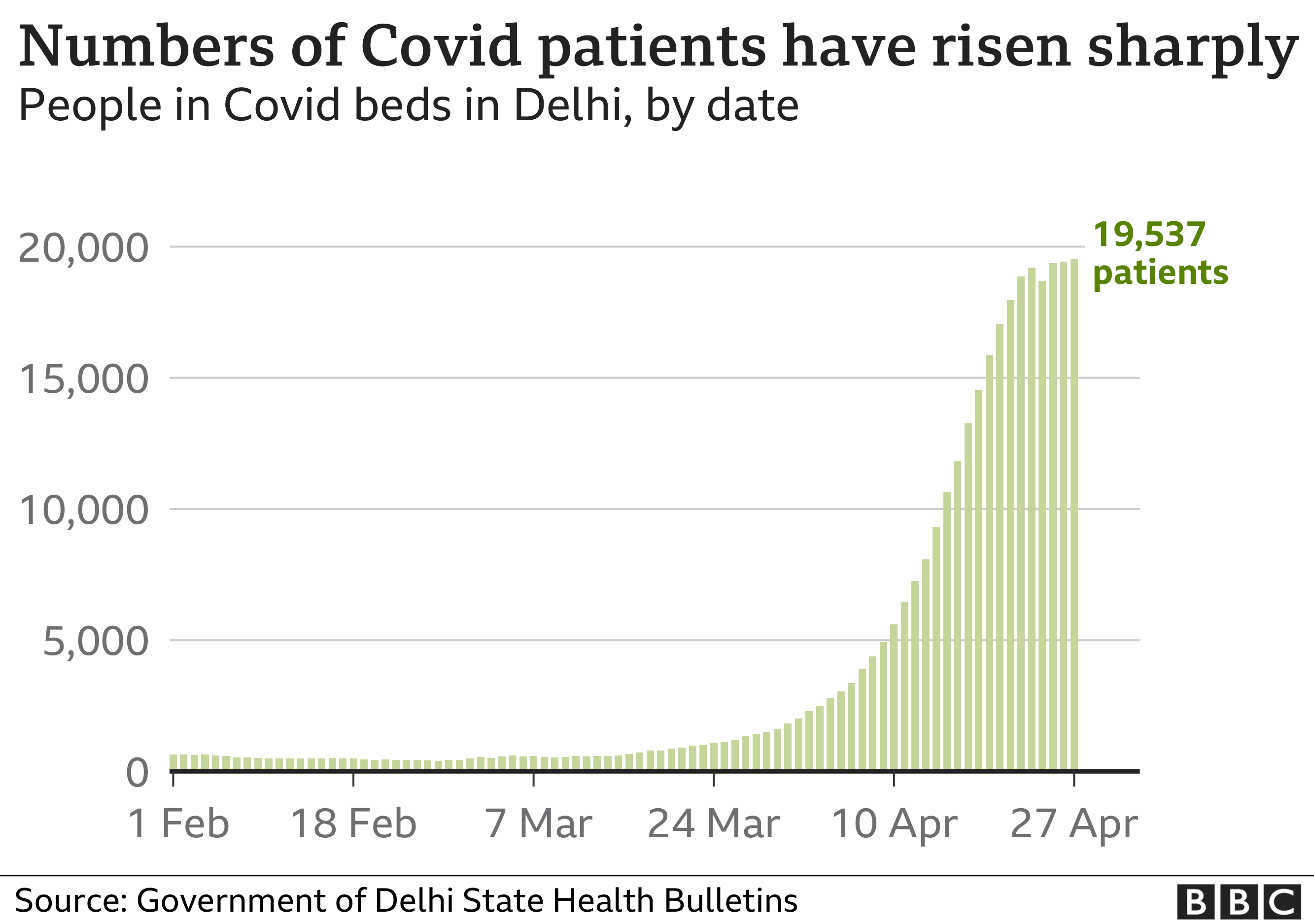 (A graph showing the number of Corona patients in hospitals in Delhi)
Some streets outside medical facilities became crowded with critically ill patients, and their loved ones tried to arrange stretchers and oxygen supplies for them, begging the hospital authorities to get a bed inside.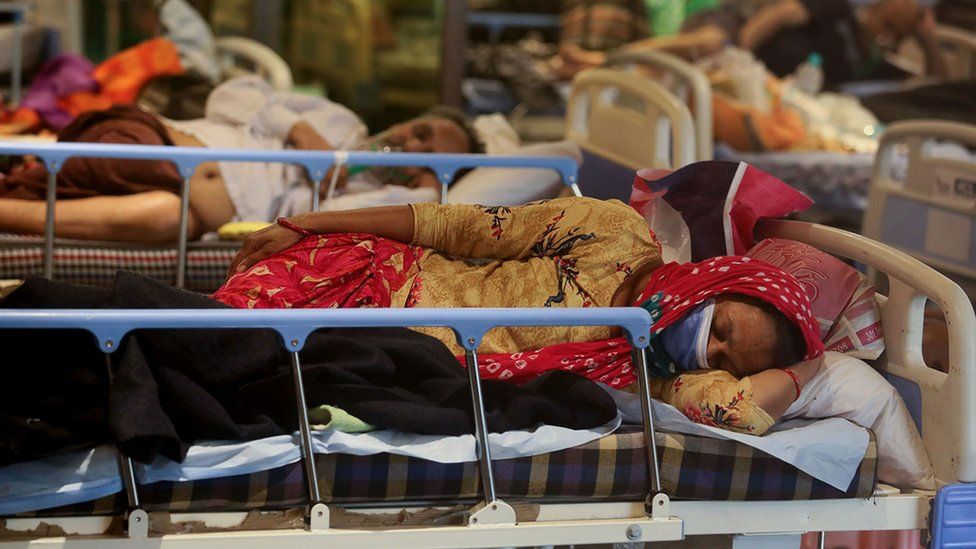 (Patients on ward for Corona patients in India - Chest: BBC)
On Monday, the government announced that military medical facilities will be provided to civilians and that retired army medical personnel will contribute to caring for patients in facilities designated for Coronavirus.
Insufficient oxygen supply
Hospitals across India are experiencing a significant shortage of oxygen while India has become the first in terms of oxygen demand among all other low, middle and high income countries.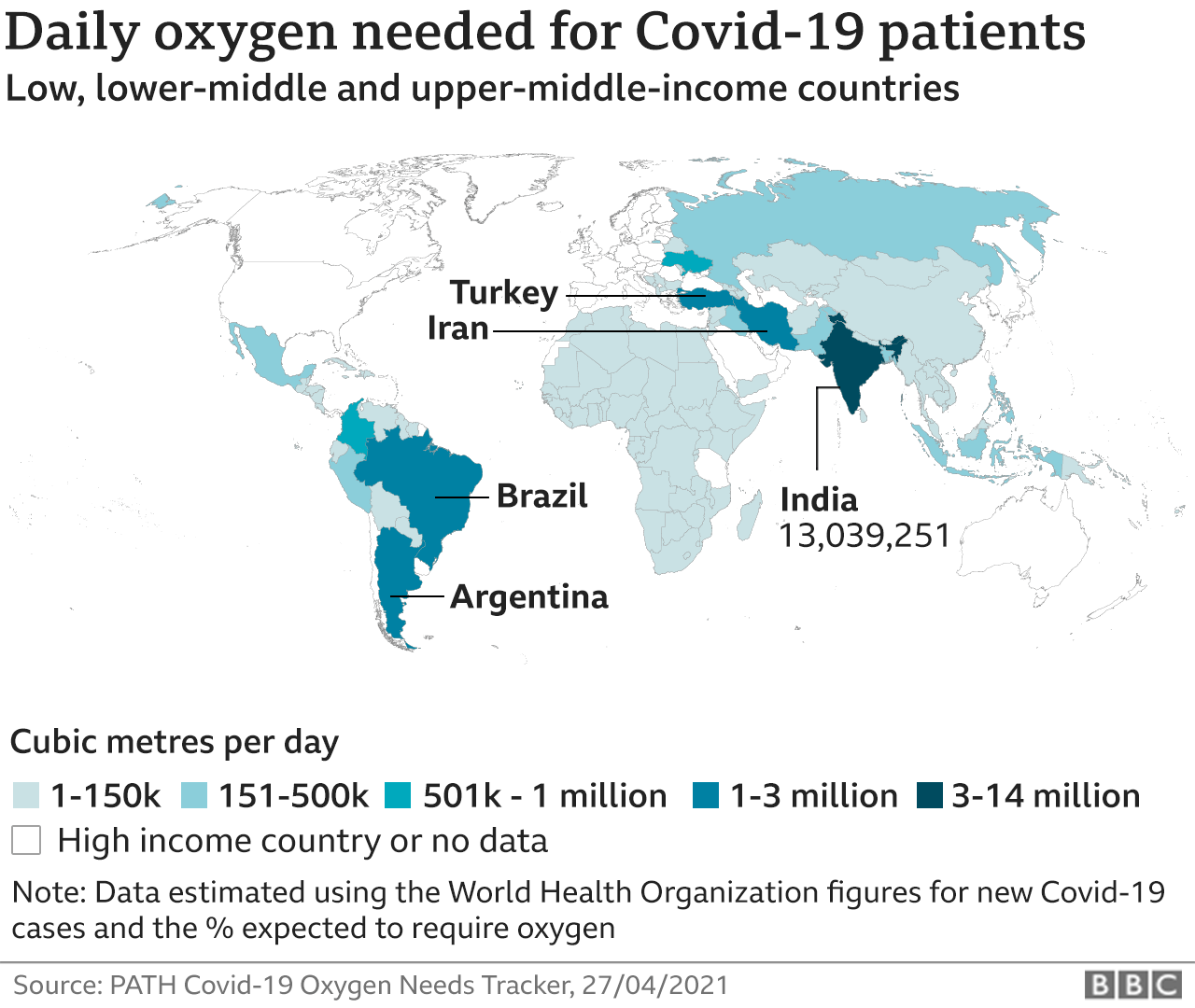 (Map showing estimated oxygen requirements in low, middle and high income countries, India in the highest order)
The demand for oxygen increases every day by 6% -8%.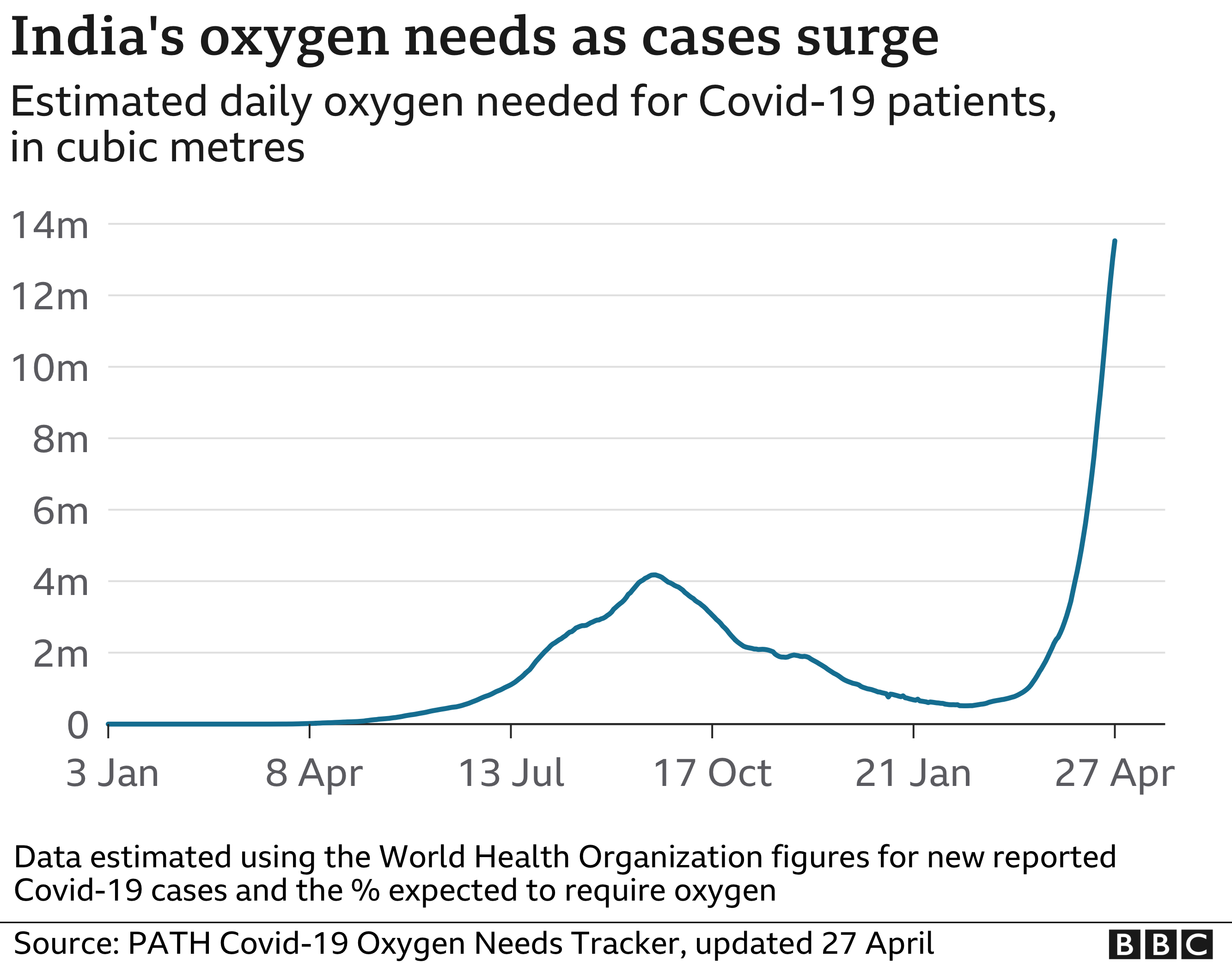 (Diagram showing India's increasing oxygen needs. Updated April 2)
Dr Harjit Singh Bhatti, who works in a ward designated for coronavirus patients at Manipal Hospital in Delhi, described watching people gasp for air in the street akin to "fish coming out of the water". "Patients are dying on the street because they don't get oxygen," he said.
Typically healthcare facilities consume about 15% of India's oxygen supply, leaving the rest for industrial use, but amid the disastrous second wave in India, nearly 90% of the country's oxygen supply - 7,500 tons per day - is diverted for medical use, according to Rajesh. Bhushan, a senior health official.
The government started trying to get oxygen supplies to where they needed it, by delivering oxygen via trains, and the Indian Air Force was transporting oxygen by air from military bases. The government said it would release oxygen supplies from reserves of the armed forces, and approved plans for more than 500 oxygen-generating stations across the country to boost supplies.
Converting train cars into medical wards
In an attempt to address the problem of family shortages, the Indian authorities have resorted to train cars, which have been converted into isolation wards, as about 4,000 Indian Railways train cars, which were equipped in March 2020, were reused to help treat Corona patients with mild symptoms to Moderate.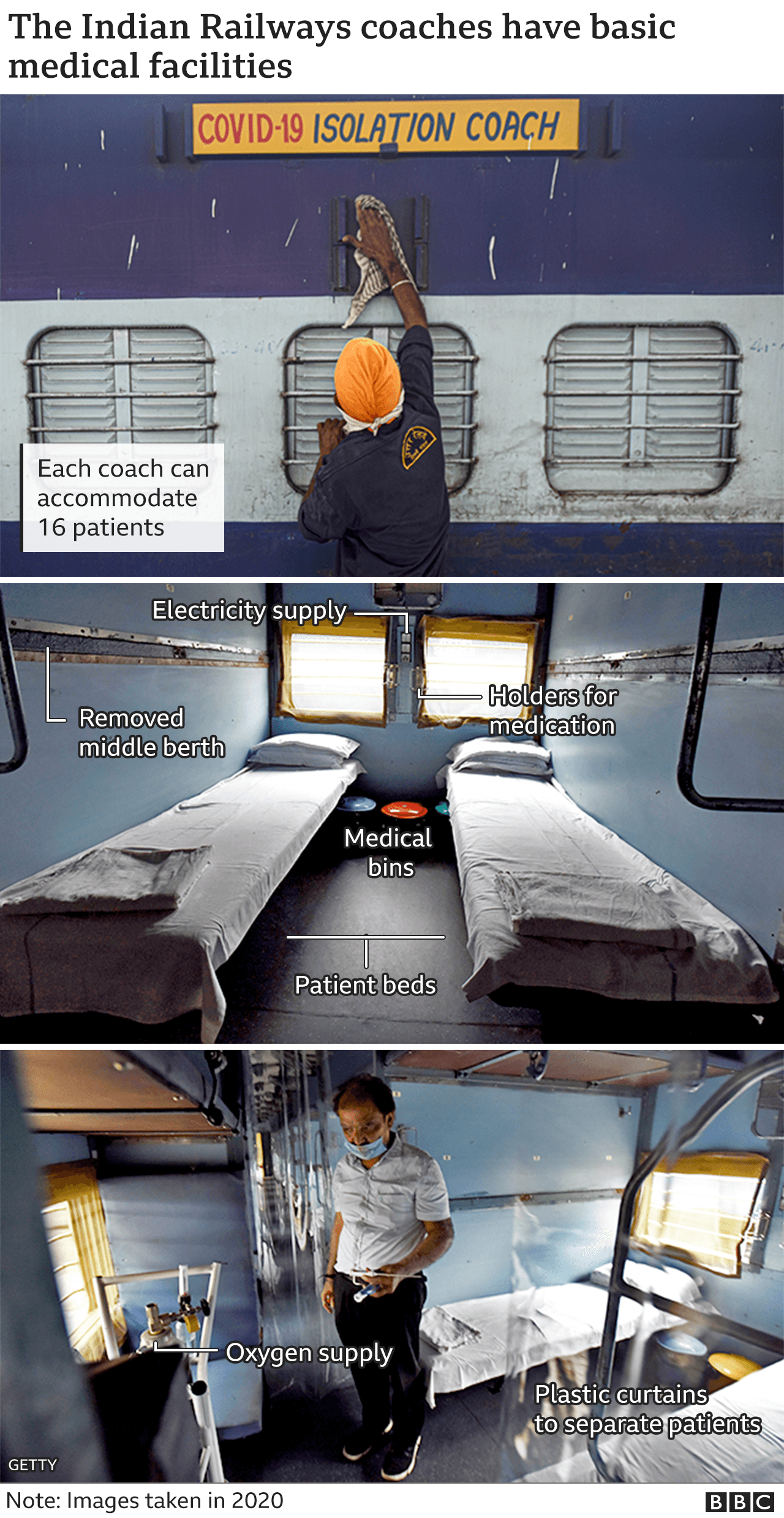 (Pictures of train cars that were converted into medical wards to isolate Corona patients)
The trains, which can be driven to stations in cities and towns, contain patient beds, toilets, and power supplies for medical equipment and oxygen supplies.
Source: BBC
This article was written originally in Arabic and is translated using a 3rd party automated service. ArabiaWeather is not responsible for any grammatical errors whatsoever.