Weather of Arabia - Praise be to God, a new book has been issued by Professor Jamal Al-Mousa, a meteorologist, entitled " Basics of Meteorology ". And fun.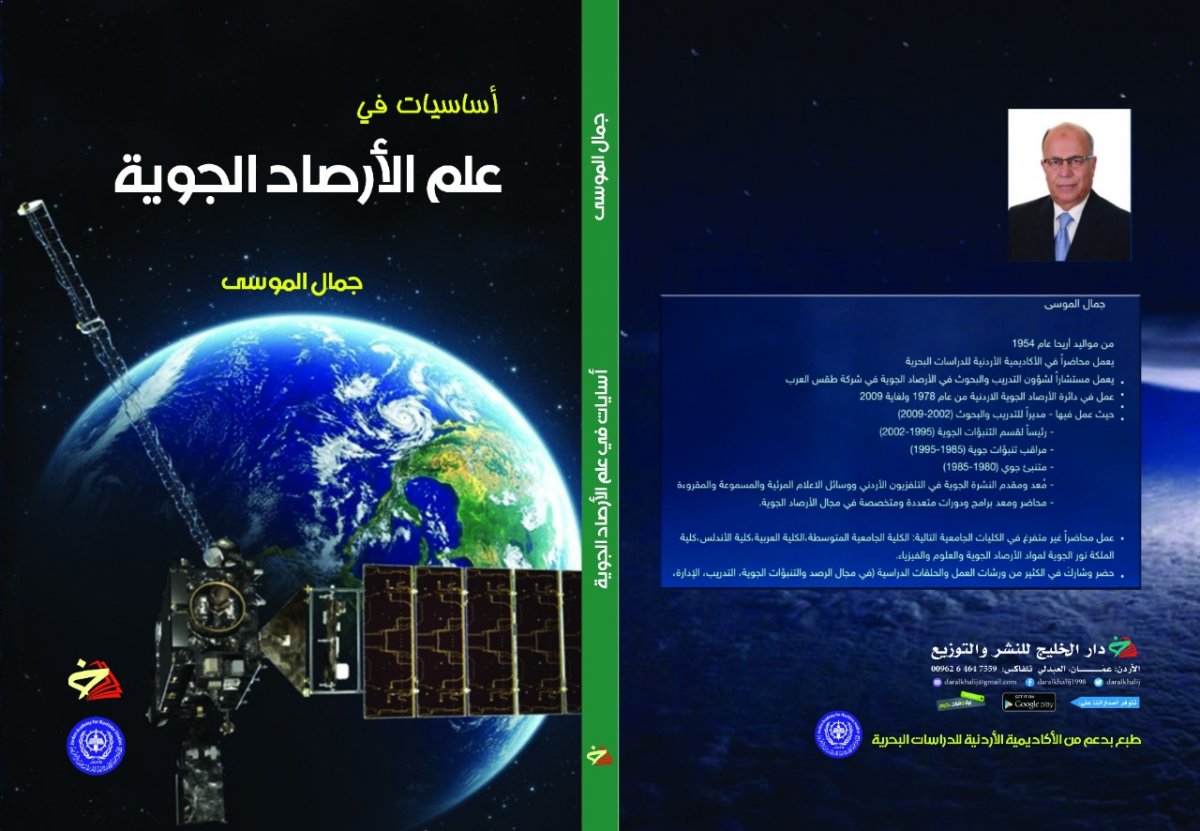 Summary of the book "Fundamentals of Meteorology"
Since ancient times, man has noticed that the weather is fickle, and is subjected to changes of various manifestations, which made him realize that these changes continuously affect his lifestyle, livelihood, movement, movement, psyche, activity and production. Which made him feel the importance of understanding these changes and this gave him a strong incentive and reason to find out the reason for these fluctuations, and then try to predict what will happen to them in the coming period.
For this reason, the efforts of interested and scientists joined forces to formulate a special science of the atmosphere, and over the years, man noticed that there are elements that cause weather conditions: water, air, temperature, Earth's rotation, and the nature of the earth (topography).
Hence the idea of this book came to provide a basic explanation in this great science (meteorology) and make it easier for those interested and students in this field to learn how to predict the weather conditions that occur in our daily lives through the coordinates of air, water and temperature..
Chapters of the book "Fundamentals of Meteorology"
Chapter One: Meteorology
Chapter Two: Atmosphere
Chapter Three: Temperature
Chapter Four: Atmospheric Pressure
Chapter Five: Moisture and Condensation Forms
Chapter Six: The Wind
Chapter Seven: The Vision
Chapter Eight: Air Masses
Chapter Nine: Weather Maps and Forecasting
Chapter Ten: Stability and Atmospheric Instability
Chapter Eleven: Hurricanes
Chapter Twelve: Remote Sensing (El Nino Phenomenon)
in conclusion..
Professor Jamal Al-Mousa wanted to present this distinguished work and this book to the Arabic library, to fill part of the void in the field of meteorology, hoping that it would be a useful aid to all scholars and researchers in understanding the basic principles in the topics of meteorology and weather forecasting, and that it would be a source of continuous benefit for all.
The book asks the publisher:
Gulf House for Publishing and Distribution
Ammaan Jordan
WhatsApp: 0096277717739
This article was written originally in Arabic and is translated using a 3rd party automated service. ArabiaWeather is not responsible for any grammatical errors whatsoever.