Weather of Arabia - The breathing of humans and living organisms has become possible on this planet because billions of years ago, dense mats of cyanobacteria at the beginning of life on Earth began to produce oxygen as a byproduct of photosynthesis, thus God Almighty destined for life on Earth to develop, But scientists still don't know for sure what turned the Earth into an oxygen-rich world, where complex organisms can evolve and diversify!
Here's a new idea of how Earth could turn into an oxygen-rich planet:
Researchers have identified an important new factor that was involved in stimulating the release of oxygen from these microbes, a slowdown in Earth's rotation that began about 2.4 billion years ago.
The Earth was spinning more quickly when it was a newborn planet, but it gradually slowed down over hundreds of millions of years. Once the length of the day reached a certain threshold, this provided longer periods of sunlight that enabled more oxygen molecules to escape from areas of higher concentration (inside bacterial mats) to areas of lower concentration (the atmosphere), according to a new study.
That is, as our planet's rotation slowed, microbes bathed in longer periods of sunlight, accelerating their release of oxygen into the atmosphere.
Scientists recently found evidence of this link in a hole at the bottom of Lake Huron, in the United States and Canada, and Lake Huron is one of the largest freshwater lakes in the world. The lake's central island crater is 91 m in diameter and is located about 24 m below the surface. There, the sulfur-rich water feeds colorful microbes that thrive in a low-oxygen environment, just as early forms of bacteria did on Earth.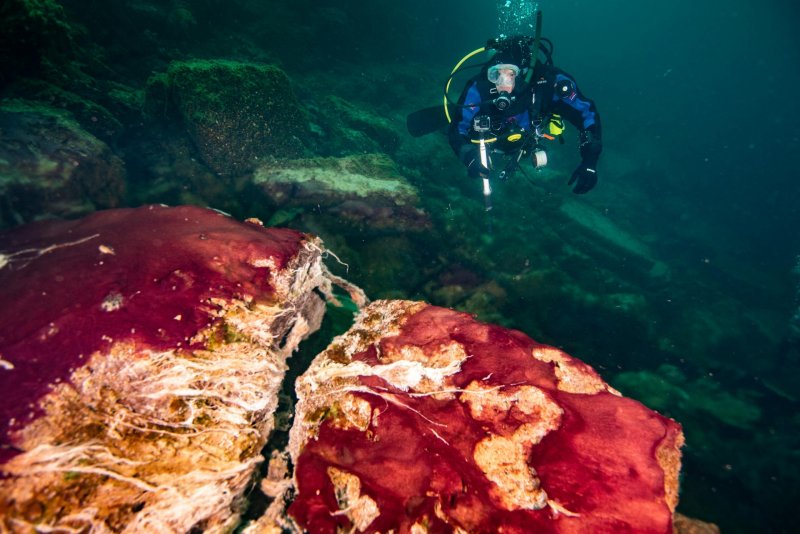 (Rocks covered with purple and white microbial mats, within Lake Huron's Central Island Group)
oxygen-producing bacteria
Two types of microbes live in the depths of cold waters:
Sunlight -seeking cyanobacteria, which produce oxygen through photosynthesis.
white bacteria , which consume the sulfur and release the sulfate instead.
Microbes compete throughout the day, with sulfur-eating bacteria covering their purple neighbors in the morning and evening hours, preventing the purple microbes from reaching the sun. However, when daylight is stronger, the albicans microbes avoid the light and migrate deeper into the stream, leaving the purplish cyanobacteria exposed and thus capable of photosynthesis and releasing oxygen.
Similar rivalries may have existed between microbial communities billions of years ago, the study researchers wrote, as exposure of oxygen-producing bacteria to sunlight was hampered by their neighboring microbes. Then, as the days on Earth got longer, the oxygen makers gained more sunlight — and released more oxygen into the atmosphere.
The study's lead author, Judith Klatt, a research scientist at the Max Planck Institute for Marine Microbiology in Bremen, Germany, said: "We recognized that there is a fundamental link between light dynamics and oxygen release, and that this link is underpinned by the physics of molecular diffusion," when thermal changes cause In the migration of molecules from regions of higher concentration to regions of lower concentration.

(Picture of the purple microbial mats in Lake Huron. These little "fingers" are caused by gases like methane and hydrogen sulfide rising beneath them.)
How does the Earth's rotation change?
Now, the Earth completes a full rotation on its axis once every 24 hours, but more than 4 billion years ago, a day lasted only about six hours, the researchers report.
Over billions of years, the interaction of the Earth and the Moon slowed the planet's rotation through a process known as tidal friction. As the Earth rotates, the gravity of the Moon (and the Sun, to a lesser extent) pulls on Earth's oceans. This stretches the seas so that they swell away from the Earth's center, drawing in and slowing the rotational energy.
Oxygen escapes from microbial mats
The researchers modeled scenarios of varying length of day for oxygen escape from the microbial mats. When they compared their models to an analysis of competing microbial mats taken from a hole on the central island, they found confirmation of their prediction: photosynthetic bacteria released more oxygen when the days were longer.
This isn't because microbes are becoming more photosynthetic, but rather because longer periods of sunlight mean more oxygen escapes from the mats per day.
Earth's atmosphere and high concentration of oxygen
The Earth's atmosphere formed after the planet formed and cooled, about 4.6 billion years ago, and was composed mostly of hydrogen sulfide, methane, and carbon dioxide (CO2), equivalent to 200 times the amount of carbon dioxide in the atmosphere today.
This all changed after the Great Oxidation Event (GOE) about 2.4 billion years ago, followed by the oxygenation event in modern living about 2 billion years later, raising atmospheric oxygen to the current level of about 21%.
These two oxygen events have previously been linked to the activity of photosynthetic cyanobacteria, and this new evidence suggests that another factor largely not previously considered is that the day becomes long enough to stimulate the release of more oxygen from the microbial mats, until the atmosphere is Earth's atmosphere is as rich in oxygen as it is today.
This article was written originally in Arabic and is translated using a 3rd party automated service. ArabiaWeather is not responsible for any grammatical errors whatsoever.