Update | Tuesday 4/27/2021 at 1:30 am
Weather of Arabia - Sinan Khalaf - The latest outputs of computer simulation systems for weather systems and rain forecasts indicate that the general population of the southern parts of the Arabian Peninsula is increasingly affected by a mass of air with high humidity coming from the Arabian Sea, in conjunction with the eruption of another, less heated air mass coming from the Levant. Which would increase the intensity and area of the weather fluctuations to make the rains more intense and accompanied by torrents and cold showers in large areas.
A great increase in the strength of the rainy condition
Alert of the heavy rains incoming torrents in Jizan, Asir, Al-Baha and Taif
According to the latest outputs of numerical models, it is expected that the heights of Jizan, Asir , Al-Baha and Taif will be on a daily basis under the influence of powerful cumulus clouds, carrying with them heavy thunderstorms and showers of cold that will be dense and accumulated at times, with a high chance of torrents forming, especially in the regions. Low and mountainous slopes, and some of these clouds may extend around the eastern parts of the Makkah region, but with less intensity.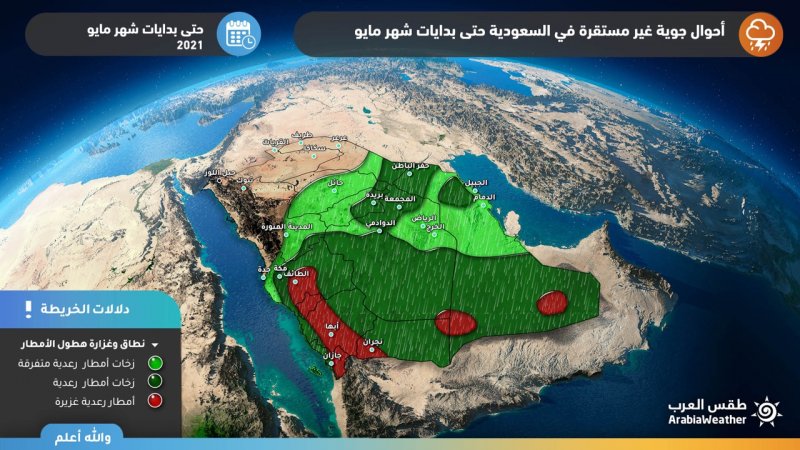 All eyes are on Riyadh, Sharqia and Hafar Al-Batin
Cumulus clouds and chances of rain on Tuesday and Wednesday
It is expected that unstable weather conditions with the afternoon and evening hours of Tuesday and Wednesday will affect the Riyadh region, including the city of Riyadh, in addition to Hafar Al-Batin and separate parts of the eastern region, including the city of Dammam, and thunderstorm clouds are expected to multiply in these areas and show showers of rain. With varying intensity, they are abundant in limited places, and accompanied by showers of cold.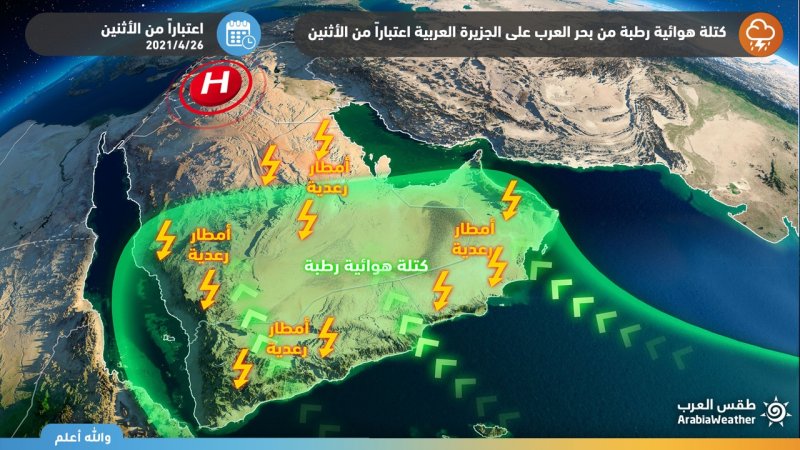 Dust and local sandstorms
Downward winds accompany the thunderstorms
This type of thunderstorm clouds at this time of year is often associated with the formation of descending air currents, which create dust waves and possibly local sandstorms in parts of the regions of Hail and Al-Qassim and parts of the Riyadh region, which will reduce the extent of horizontal visibility and perhaps its absence.
Some important recommendations:
- Alert of the occurrence of thunderstorms and the accompanying activity of the surface winds that cause dust.
Alert of the formation of floods locally in parts of the southwest and west of the Kingdom.
- Warning of low horizontal visibility due to dust in parts of the north of the Kingdom.
This article was written originally in Arabic and is translated using a 3rd party automated service. ArabiaWeather is not responsible for any grammatical errors whatsoever.