Update | Thursday, August 19, 2021 at 1:10 pm
Arab Weather - Sinan Khalaf - The weather forecast staff in Arab weather is monitoring some initial signs of a possible moisture flow towards the western parts of the Arabian Peninsula during the second half of next week, as a result of the deepening of the Red Sea depression towards the north of the Kingdom of Saudi Arabia.
Thunder tongue extending from north to south!
Preliminary details of the expected weather and affected areas
Despite the long period of time for the expected tropical flow, the initial indicators are considered excellent and very promising for the comprehensiveness of rains for areas that are experiencing a period of drought and rain interruption since the beginning of the summer, such as the regions of Tabuk and Medina, and this flow of tropical moisture will result in intensification and expansion of the rain area Over all the southwestern regions of the Kingdom, such as Jazan, Asir and Al Baha, extending to Taif and possibly parts of Makkah.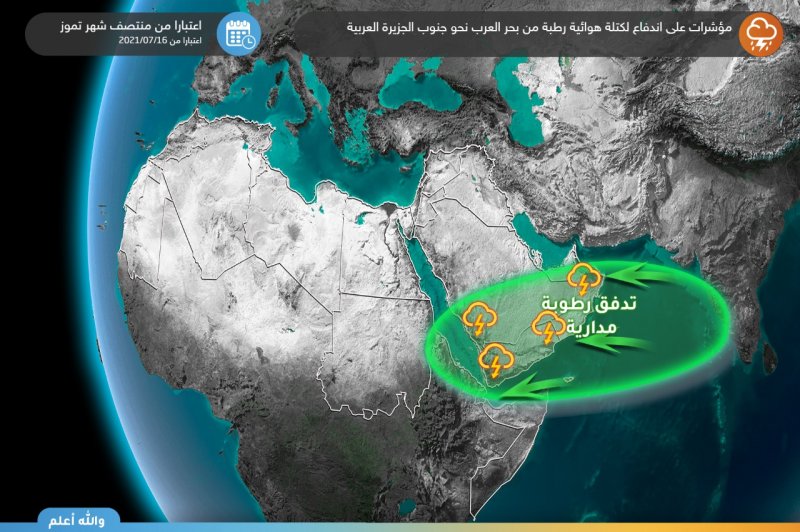 Direct effects on the Sultanate of Oman
Heavy thunderstorms and possible torrential rain
It is expected that the Sultanate of Oman will be directly affected by the moisture tide coming from the Arabian Sea as of the end of next week, starting on the coastal parts and moving quickly towards the inland parts and mountainous heights, which will have the largest share of rain precipitation, and it is expected that cumulus thunder clouds will form on a large scale, And that heavy rain is accompanied by hail at times, which is expected to work on the flow of valleys and torrents.
More details about the weather and temperatures during the coming period via the 6--30 day bulletin on the Arab Weather app
Weather fluctuations in Saudi Arabia
Heavy thunderstorms in large areas
As for the Kingdom of Saudi Arabia, it will also be under the influence of weather fluctuations as a result of the tropical flow expected during the third week of this month, and these fluctuations include the Empty Quarter, the south of Riyadh and Najran and parts of the Jazan, Asir and Al Baha highlands, where thunder clouds are formed, God willing, and accompanied by God's will Thunder showers of rain, sometimes heavy, accompanied by hail showers.
We warn of heavy rain in Yemen
Rainy condition affects most areas of the country
In Yemen, it is expected that most of its regions, especially the mountainous sectors, will be affected by these weather fluctuations, where it is expected that cumulus thunderstorms will form and rain will fall heavily, sometimes accompanied by showers of cold.
This article was written originally in Arabic and is translated using a 3rd party automated service. ArabiaWeather is not responsible for any grammatical errors whatsoever.