Weather of Arabia - for the first time, the Kingdom of Saudi Arabia participates in the designation of hurricanes and tropical conditions in the Arabian Sea and the northern Indian Ocean, after joining the nomenclature committee, and it is the United Arab Emirates in addition to Yemen and Qatar.
Saudi Arabia enriches the list with more Arabic names
Through the attached table, an emergence of the Arabic names appears, as 65 Arabic names bearing beautiful meanings and meanings were registered and proposed by the group of Arab countries in the committee.
As for the Kingdom of Saudi Arabia, it added to the list by joining the Committee 13 names that have deep connotations and meanings, such as Jawad, Fingal, Faidh, Ksir, Nakheel, Hebub and others, as shown in the attached table.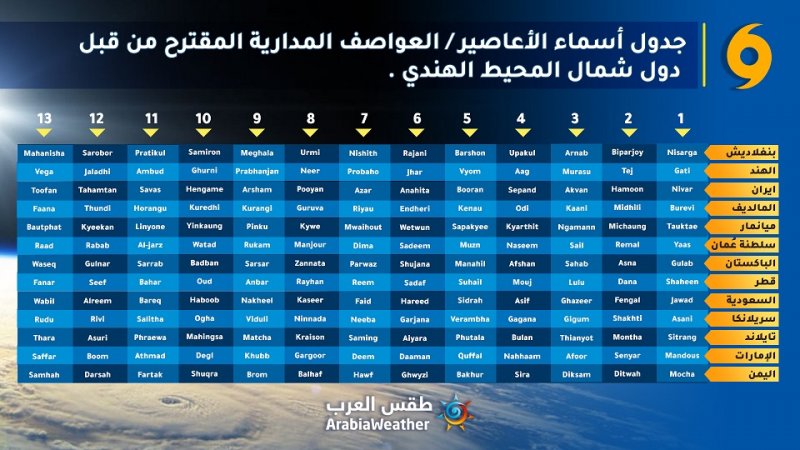 How are hurricanes named in the countries of East Asia and the Arabian Sea?
Hurricanes that form in the northern Indian Ocean are named by the Regional Meteorological Center based in New Delhi - India on behalf of the member countries of the International Meteorological Organization Economic and Social Commission for Asia and the Pacific.
Initially, no name is given to a storm in the North Indian Ocean, the Sea of Oman, or the Bay of Bengal, except when it becomes tropical, according to the rates of the wind speeds generated by it, and at that time the name mentioned in the name table previously mentioned in the list is used by the committee in a descending order From top to bottom, as each member of this committee is assigned to choose a name for a storm, provided that the name is easy to pronounce and does not have any meaning or political, religious, ethnic or racial overthrow or use, then the full names are presented to the committee for consideration and approval, to be placed in The ready-to-use menu in order.
This article was written originally in Arabic and is translated using a 3rd party automated service. ArabiaWeather is not responsible for any grammatical errors whatsoever.