Arab Weather - Sinan Khalaf - The weather forecast staff in Arab weather warned of the possibility of a return to the effect of the activity of the northwest winds, known locally as the Al-Bawareh winds, on parts of Iraq and Kuwait on Friday, with an opportunity for some dust transferred from these areas to extend towards the far north of the eastern region of the Kingdom. Saudi Arab.
Indirect effects on Saudi Arabia
Movable dust and a limited decrease in the horizontal visibility on Friday
Weather forecasts indicate that the region will be affected by the blowing of northwesterly winds, starting with the regions of southern Iraq, which are remarkably active and dusty to move quickly towards Kuwait, but become weaker when entering Saudi lands, which will prevent dust and local dust, but some dirt and dust may reach Transferred from Kuwait to Khafji.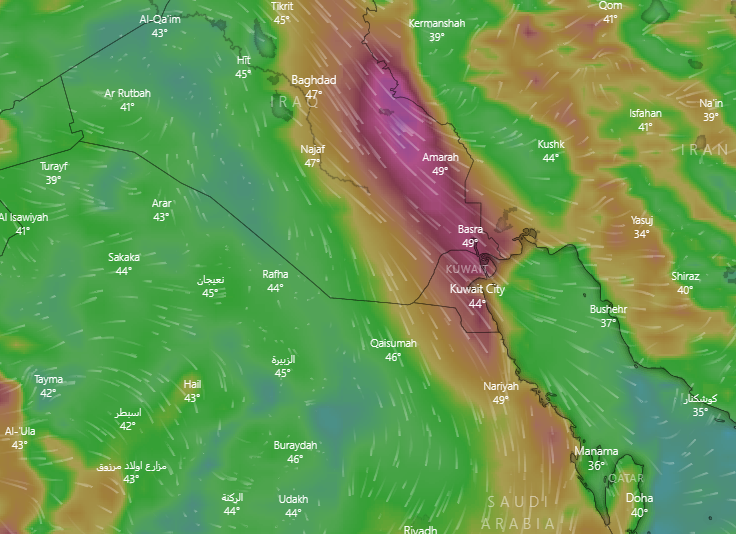 Other countries are in the dust
Direct effects of wind and dust on Qatar, Bahrain and the UAE
As for Qatar, Bahrain and the UAE, these countries will not be far from the dust target, as it is expected that they will also be affected by a remarkable activity on the speed of the winds that raise dust and dust, but less severely than it will be in Kuwait and eastern Saudi Arabia, and its impact will focus on the internal parts and God knows best.
Why energize Albawareh winds in the summer?
The Al-Bawareh winds are active during this period of each year as a result of the large difference in atmospheric pressure between the atmospheric pressure centered in the north and northwest of the Arabian Peninsula, and the extension of the Indian seasonal depression across the Arabian Gulf towards the eastern region and Kuwait, where the large difference in atmospheric pressure between both Atmospheric systems indicate strong northwesterly winds blowing towards these areas, and these winds are known as the Al-Bawareh winds .
An important link to follow the movement of dust via satellites, from here
Important tips for dealing with dust
These winds have many negative effects, especially on patients with the respiratory system and eyes, as a result of raising dust and dust in a remarkable way, which requires them to follow the necessary preventive measures to prevent health complications, God forbid, and it also requires drivers to be careful while driving on the roads in case of low horizontal vision. by dust.
This article was written originally in Arabic and is translated using a 3rd party automated service. ArabiaWeather is not responsible for any grammatical errors whatsoever.