Update: Wednesday 03/16/2022 - 3:00 pm
Arab weather - The latest output of the computer simulation systems for wind movement still indicates that parts of the east, central and southern parts of the Kingdom were affected on Thursday 17-03-2022 by stormy and densely dusty weather, accompanied by the crossing of a cold air front to the region's atmosphere.
Extensive sandstorms
Al-Ahsa and south of Riyadh administratively, and Najran most affected
In the details, it is expected that the cold air mass will deepen over all parts of the Kingdom of Saudi Arabia on Thursday, and due to the thermal differences, strong winds will rush, after God's will, towards all regions of the central, eastern and southern regions of the Kingdom, the speed of some of its gifts reaching the limits of 70 km/hour, and these winds are considered capable of forming waves Wide dust associated with a significant decrease in the range of horizontal visibility.
It is expected that the sandstorm will directly affect Sharqiyah and Riyadh administratively during Thursday, and the intensity of dust will be medium to dense in general in Al-Ahsa and the south of the Riyadh region administratively, which causes a remarkable decrease and perhaps a lack of horizontal visibility in those areas, provided that the direct effects are affected. The sandstorm has parts of the southwest of the Kingdom, especially the Najran region.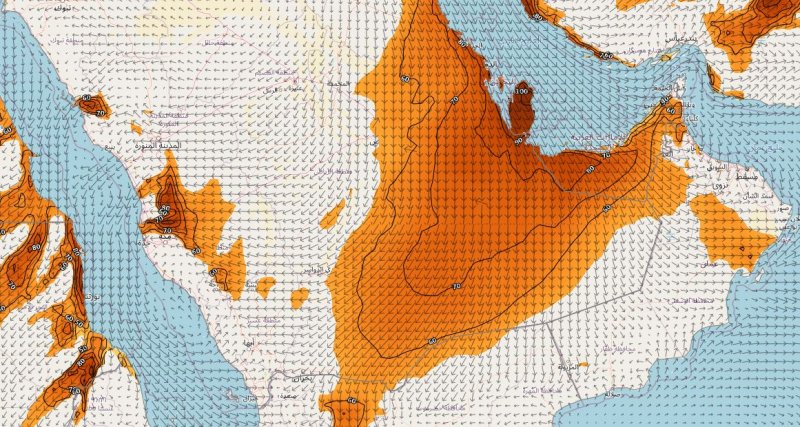 In light of the dry nature and the absence of vegetation cover, whether this absence is the result of natural causes due to the lack of rain and drought or causes resulting from human neglect and sabotage, a major reason for the increase in the strength of the expected sandstorm, as the vegetation cover plays an important role in the process of soil stabilization and preventing sand from flying with Wind gusts, and trees, by their nature, act as natural buffers for winds and dust waves.
These weather conditions require attention from:
Intense danger of winds whose gusts may reach the 70 km/h barrier.
Low risk and possibly lack of horizontal visibility due to thick dust.
Risk of additives in respiratory and ophthalmic patients due to dust.
This article was written originally in Arabic and is translated using a 3rd party automated service. ArabiaWeather is not responsible for any grammatical errors whatsoever.