Arab Weather - The latest weather maps via the Badr system developed in "Arab Weather" indicate an expected continuation of thunderstorms in parts of the south and west of the Kingdom of Saudi Arabia on Wednesday 8-17-2022, resulting from the unstable weather conditions caused by the rainy situation called (orbit 22).
In the details, it is expected, God willing, that parts of the southern and western sectors of the Kingdom will continue to be affected on Wednesday by unstable weather conditions, so that the chances of rain remain in separate parts of Najran, the Empty Quarter and southwest of Riyadh administratively, with the formation of cumulus formations during the afternoon and evening on the heights of Jazan and Asir. The courtyard is in addition to the patchy parts of the heights of Makkah, Madinah, Tabuk and Al-Jawf. The rains are of varying intensity and heavy at times, accompanied by the occurrence of thunderstorms.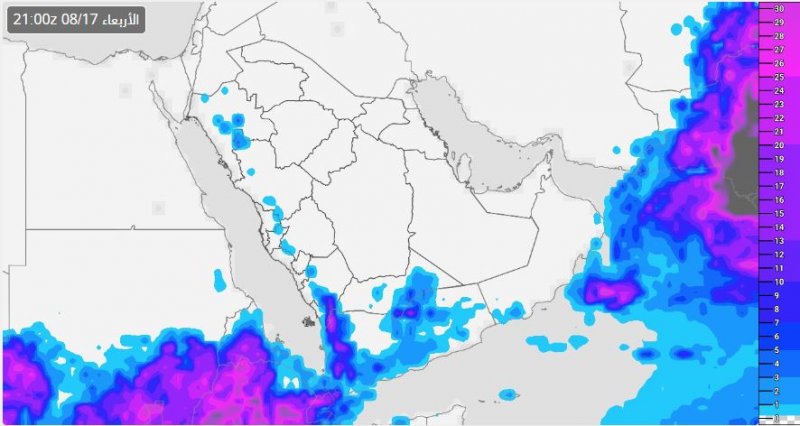 Simultaneously with that, temperatures remain within their normal rates in all regions of the Kingdom, with hot to very hot weather during the day, with the exception of highlands, with a rise in surface moisture rates on the coastal areas, and it is expected that active northern winds will blow over parts of the north of the Kingdom that raise some dust and dust.
Weather turbulence intensified in the southwest of the Kingdom this weekend
According to the latest weather readings, computer indicators indicate the flow of tropical moisture resulting from the remnants of the tropical depression to the southwestern sector of the Kingdom during the weekend, so that the weather turbulence intensifies and includes large parts of the highlands and Tihama of Jazan, Asir and Al Baha, in addition to the heights of Makkah and the rains may extend In Taif, the rains vary in intensity and are sometimes heavy, accompanied by the occurrence of thunderstorms and cause the flow of valleys and the formation of torrents in a way that may be dangerous at times, in addition to that they are often preceded by a great activity at the speed of the winds that may cause the formation of local dust storms.
God knows.
This article was written originally in Arabic and is translated using a 3rd party automated service. ArabiaWeather is not responsible for any grammatical errors whatsoever.