Weather of Arabia - The output of the issued weather maps still indicates a rush of a warm and dry air mass towards the Kingdom at the end of this week, and an accompaniment of a pentagonal depression that brings with it the pentathlon weather, which is represented by warm, dry and dusty weather in many areas.
An early warm air mass dominates the kingdom at the end of the week
The atmosphere is close to summer in many areas
In the details, the Khamasini air depression is approaching the Kingdom, coming through the Egyptian territories, as of Wednesday, March 9, 2022, and the deep air depression is concentrated in the south of Iraqi territory, and because of it, warm southwestern currents move, as a result of which temperatures rise in most areas, especially in the western and northern regions of the Kingdom. The weather becomes warm and close to summer, and temperatures are in the mid-thirties Celsius.
from here
Find out the details of the dust waves expected in the Kingdom on Wednesday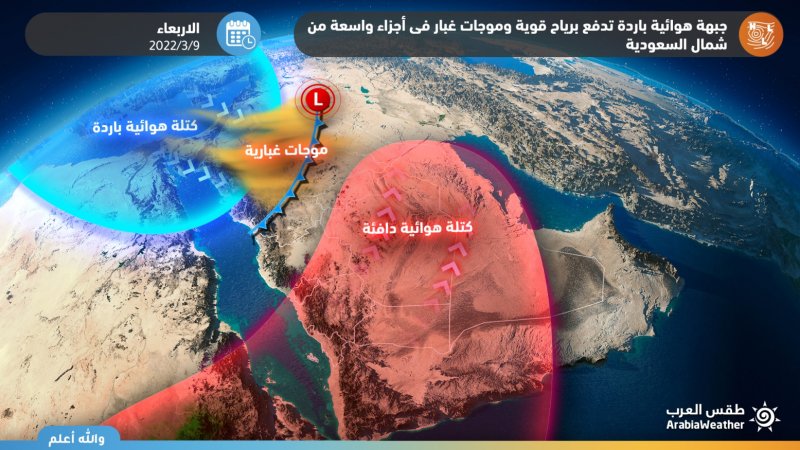 With the evening and night hours of Wednesday/Thursday, the cold air front begins to cross the northern parts of Saudi Arabia, causing a radical change in the atmosphere in those areas in conjunction with high wind speed activity.
The movement of the Khamasini air depression in eastern Saudi Arabia Thursday and Friday
The increasing influence of the warm air mass on the central and eastern regions
Computer modeling maps indicate that the "thermal" pentagonal air depression will move on Thursday, March 10, 2022, to eastern Saudi Arabia, to be centered over the eastern parts on Thursday and Friday, as a result of which temperatures will rise significantly and significantly in the eastern and central parts of the Kingdom, with the maximum approaching 40 degrees Celsius. In the afternoon in several parts of the Kingdom, including the capital, Riyadh, the winds are southwesterly, brisk, dry and warm, raising dust and dust, and increasing the feeling of warmth.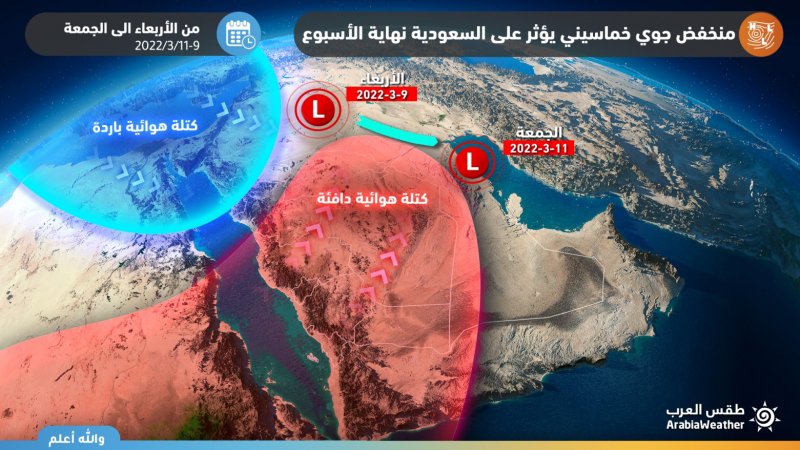 Read also:
Monitoring large amounts of emissions from the Tonga volcano in the stratosphere.. Are there possible effects on the climate?
This article was written originally in Arabic and is translated using a 3rd party automated service. ArabiaWeather is not responsible for any grammatical errors whatsoever.