Arab Weather - The weather forecast staff in the "Arab Regional Weather Center" warned of additional temperature rises in the western parts of the Kingdom, especially the Makkah Al-Mukarramah region, in which the temperature is expected to exceed the 45 degrees Celsius barrier, while the temperature is similar as well. In the interior parts of the eastern region.
With these successive rises in temperature and stressful atmosphere, heat stress increases, so what is heat stress? What are its symptoms and treatment, and what is the most vulnerable group to heat stress?
What is heat stress?
Heat stress is a condition that results from direct and prolonged exposure to sunlight and high temperatures, and results in severe, sometimes life-threatening, exhaustion.

What are the symptoms of heat stress?
Feeling emaciated and dizzy
excessive sweating
Cool, pale and hydrated skin
Nausea or vomiting
Fast and weak pulse
muscle cramps
The following design highlights the main symptoms of heat stroke and heat stress and treatment method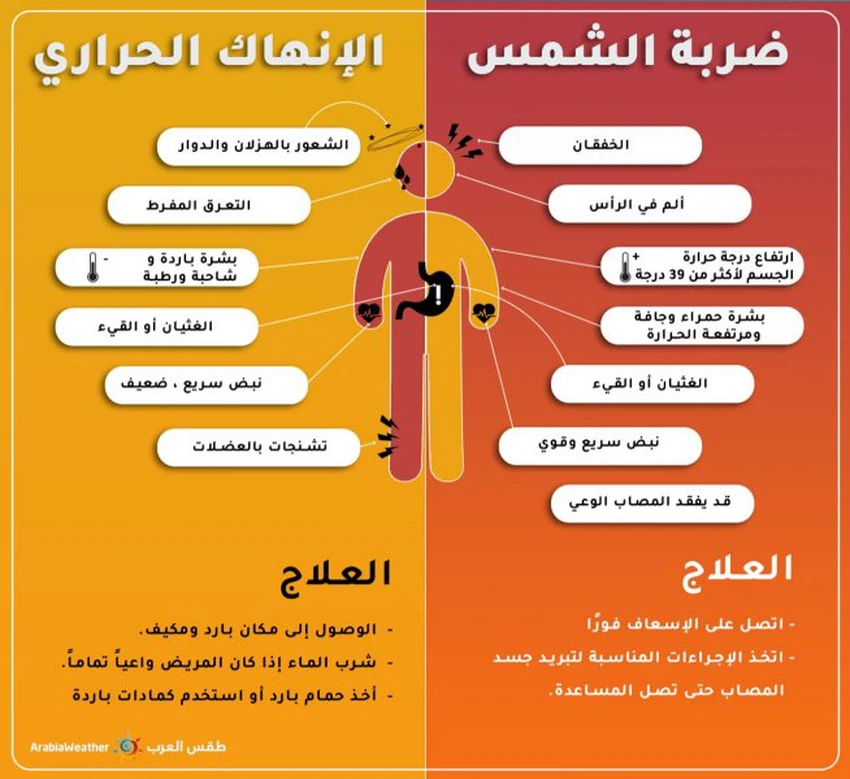 The elderly and children are the most affected by heat stress
The category of children under the age of 4 years, and adults over the age of 65 years are more susceptible to heat stress, and for children, the body's ability to regulate its temperature is not fully developed yet, as for the elderly it may decrease due to illness, medications, or other factors.
This article was written originally in Arabic and is translated using a 3rd party automated service. ArabiaWeather is not responsible for any grammatical errors whatsoever.