Weather of Arabia - The Arab Weather Center is closely monitoring the output of weather maps, which now indicate that there is a new wave of rain that is expected to affect large parts of the west of the Kingdom by the end of this week, God willing, and it may affect some central regions, but in a sporadic manner in general, It is expected that it will be accompanied by showers of hail, which may be intense at times, especially over the tops of the mountains, and activity in the downward winds.
This comes as a result of expectations of an eruption of depressions in the high and middle layers of the atmosphere from the south of the Arabian Peninsula, in conjunction with the support of moisture from the tropics due to the advancement of the seasonal belt of convergence of winds into the atmosphere of the Arabian Peninsula (ITCZ), and an effective surface response to the depressions.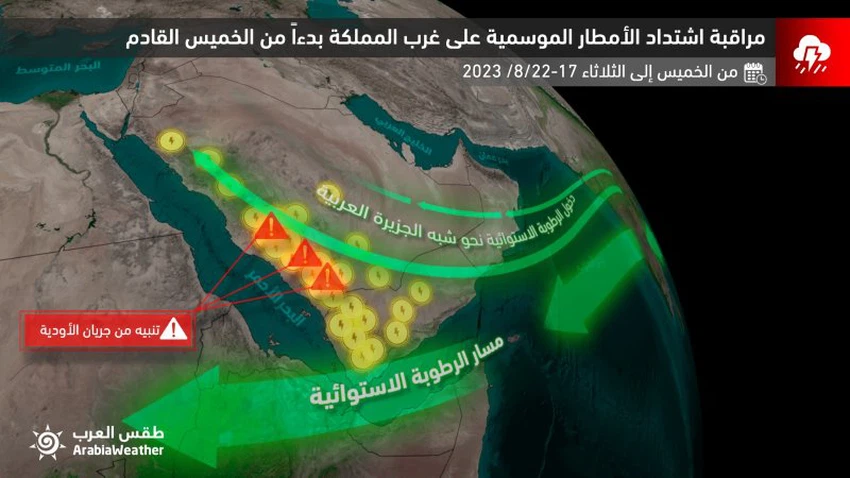 And it is expected that the chances of cumulus clouds multiplying during the next few days will focus on the heights of Jizan, Asir and Al-Baha, and they may affect some of the heights of Makkah Al-Mukarramah, and they will be accompanied by moderate rains in their entirety that may be interspersed with some heavy foci sometimes, and some cumulus clouds are likely to be in the ranges of Generally narrow from the heights of Tabuk and Medina.
The monsoon rains intensify on the southwestern highlands, starting from Saturday, with high chances of valleys and torrential runoff in the southwestern sector in particular.
And according to forecasters in the Arab weather, it is expected that the frequency of weather disturbances will increase on Friday and early next week to include many parts of the southwest of the Kingdom, including Jizan and Asir, as well as the coastal parts of the two regions, in addition to the heights of Makkah Al-Mukarramah and Al-Madinah Al-Munawwarah, and some heights may be affected. Tabuk. And this rain is heavy in some neighborhoods and is accompanied by hail, which causes valleys and reefs to flow, and these thundershowers are accompanied by strong gusts of wind.
Rain also includes sporadic parts of the central and eastern regions, especially the western parts of the regions of Hail, Qassim and Riyadh administratively, with sporadic rains, and these thundershowers are accompanied by strong gusts of wind, which may lead to the formation of dust storms locally and temporarily.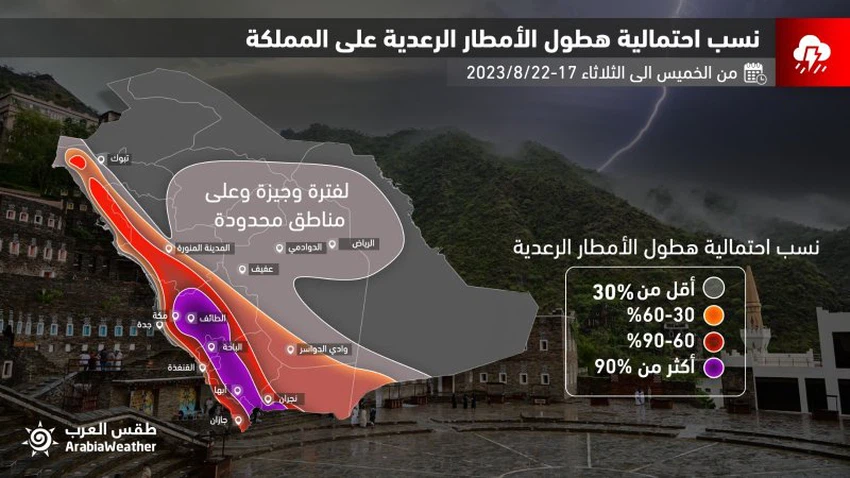 This article was written originally in Arabic and is translated using a 3rd party automated service. ArabiaWeather is not responsible for any grammatical errors whatsoever.