Arab weather - the tropical depression developed yesterday, Friday, west of the Bay of Bengal, into a tropical storm, and the name "Jawad" was given to it, a designation proposed by Saudi Arabia, where the cyclones that form in the northern Indian Ocean are named by the specialized regional center for meteorology, which is located in (New Delhi). - India) on behalf of the member countries of the World Meteorological Organization.
If you are browsing from your phone, you can download the Arab Weather application, which provides accurate weather forecasts for thousands of regions in the Arab world.
The emergence of Arabic names in the table of tropical storm names in the Arabian Sea
The storm is moving north and retreating to a depression for the next hours
In the details, it is expected that Tropical Storm Jawad will continue to move in the north and northeastern direction, with a decline in its classification of tropical depression during the next few hours, affecting the northeastern coastal regions of India in the form of strong winds, and heavy rains in some areas. The rain associated with the tropical state is 50-70 mm over some coastal areas.
The attached table shows the emergence of Arabic names, as 65 Arabic names with beautiful connotations and meanings were recorded, which were proposed by the group of Arab countries in the committee: the Sultanate of Oman - Saudi Arabia - Qatar - Emirates - and Yemen.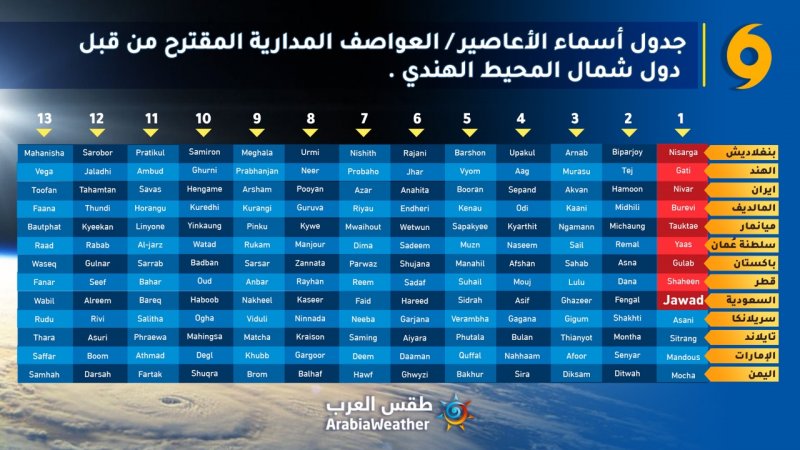 Where the name is given to the tropical situation in the northern Indian Ocean region when it becomes a storm, according to the rates of wind speed resulting from it, then the name mentioned in the table of names previously placed in the list by the committee is used in descending order from top to bottom.
This article was written originally in Arabic and is translated using a 3rd party automated service. ArabiaWeather is not responsible for any grammatical errors whatsoever.