Weather of Arabia - The latest weather forecasts extracted from the outputs of the so-called computer simulations indicate an expected continuation of weather turbulence in parts of western Saudi Arabia during the weekend, in conjunction with the blowing of active northern winds, speeding over large parts of the eastern and central kingdom, raising dust and dust.
In the details, it is expected, God willing, that the western sector of the Kingdom will be affected by unstable weather conditions during the weekend, so that chances of rain remain in separate parts of Najran, the Empty Quarter and southwest of Riyadh administratively, with the formation of cumulus formations during the afternoon and evening on the Tihama heights, Jizan and Asir. Al-Baha is in addition to the heights of Makkah, and the rain may extend to include Taif and the sacred feelings during the evening and night hours, and the chances of rain extend randomly to parts of Medina, Tabuk and western Hail and Al-Qassim regions. Oftentimes with great activity in wind speeds that may cause local dust storms to form.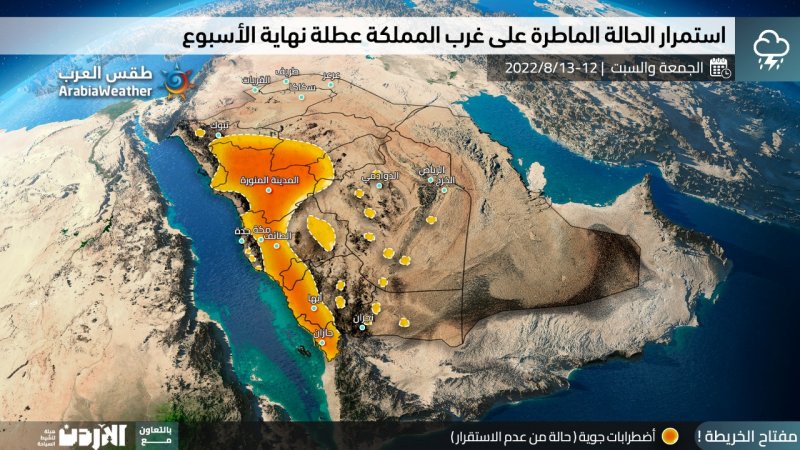 Simultaneously with these climates, temperatures remain higher than their averages for this time of year in most regions of the Kingdom, with hot to very hot climates, with the exception of the highlands, and as a result of the positioning of a hot and dry air mass over most regions of the Arabian Peninsula, especially the eastern ones, leading to a deepening of the atmospheric depression. In the southeastern corner of the Arabian Peninsula, in conjunction with the presence of a lower temperature air mass over the Levant, this leads to the formation of a large difference in the atmospheric pressure values between those two regions, and this results in the blowing of active northern winds, speeding over the eastern and central regions of the Kingdom, raising Some dirt and dust, God willing.
This article was written originally in Arabic and is translated using a 3rd party automated service. ArabiaWeather is not responsible for any grammatical errors whatsoever.