Arab Weather - The weather forecast staff in Arab weather warns of the possibility of a return to the effect of northeastern wind activity on parts of Iraq and Kuwait on Wednesday, with an opportunity for its impact to extend towards the eastern parts of the Kingdom and parts of the central region, to include Al-Ahsa and parts of the Riyadh region administratively, and the following details :
It is associated with decreased horizontal vision
Remarkable activity on the speed of the northeast wind
In details, with the eastern basin of the Mediterranean Sea affected by a moderate temperature air mass, the surface atmospheric pressure increased, while the eastern parts of Saudi Arabia are still under direct influence of the upper air altitude and temperatures are higher than their normal rates in those areas, and as a result of solar heating the surface atmospheric pressure decreases. The region becomes vacant, attracted by the winds from the nearest air altitude, which is located in the eastern basin of the Mediterranean.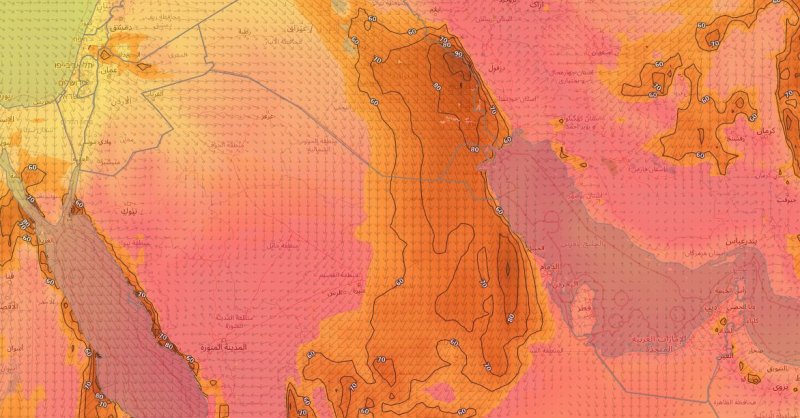 As a result of the increasing slope of atmospheric pressure, weather forecasts indicate the affected region Bhpop northeast winds the beginning of the areas of southern Iraq, be active and exciting dust is striking to move quickly toward Kuwait, but they become weaker when entering the territory of Saudi Arabia, the Al - Ahsa and parts of the private Riyadh parts of Eastern and Southern Including, in addition to parts of the south and southwest of the Kingdom, it will be exposed to active speed northeastern winds, which are expected to decrease the horizontal visibility, especially with the lack of rain during the past months, which led to the disappearance of vegetation cover and the disintegration of soil easily in the eastern parts of the Kingdom.
This atmosphere requires:
Attention patients of the respiratory system and eyes beware of exposure to dust and raised dust for fear of complications. It also requires drivers to be careful while driving on the roads in the event of reduced horizontal vision due to dust.
This article was written originally in Arabic and is translated using a 3rd party automated service. ArabiaWeather is not responsible for any grammatical errors whatsoever.