Weather of Arabia - The latest weather readings indicate an increase in some regions of the Kingdom being affected by unstable weather conditions, starting from the dawn and Tuesday morning hours, accompanied by thunderstorms of rain in some regions of the Kingdom and activity in the speed of surface winds, due to the gradual approach of a cold air mass From the north of the Kingdom, rushing from the eastern basin of the Mediterranean Sea, in conjunction with the presence of another warm mass that dominates the atmosphere of the Kingdom.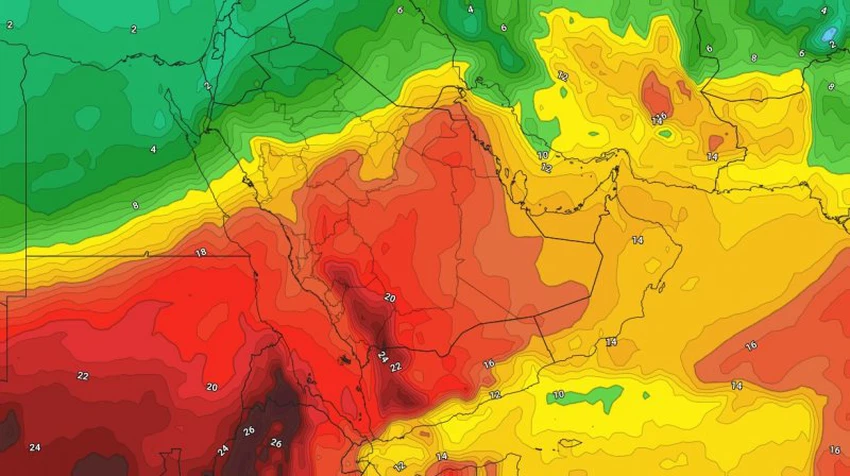 And in the details, it is expected that the opportunity will be ripe for dawn and early morning hours for showers of rain in separate areas of the northern borders, Al-Jawf, north of Hail, south of Tabuk region, and north of Al-Madinah Al-Munawwarah region (including some coastal parts of the two regions). And the weather maps developed in the Arab Weather Center indicate that the chances of rain gradually extend with the passage of daylight hours to most parts of the regions of Al-Madinah Al-Munawwarah and Hail and some parts east of the northern borders and east of Al-Qassim, and these rains are sometimes heavy and are accompanied by the occurrence of thunder and the fall of grains of hail, which It leads to the flow of valleys and reefs in some areas, and it is possible that light to moderate rains will reach the northern coasts of the Makkah Al-Mukarramah region.
In conjunction with that, it is expected that the western and southwestern winds will gradually activate in most of the northern, northwestern and north-central regions of the Kingdom, and are accompanied by strong gusts sometimes exceeding the barrier of 80 km / hour in some of these areas, and raise dust and dust in the regions. desert and thus a decrease in the horizontal vision range.
And with the evening and night hours, a further drop in temperatures is expected in the northern and northwestern regions, on the contrary, the temperature is warmer than usual in the central regions. It is expected that the weather will tend to stabilize in most regions of the Kingdom, except for the Hafar Al-Batin region, the far north of the eastern region, and the administrative north of the Riyadh region (Al-Zulfi and Al-Majma'a), in addition to limited parts of the eastern Qassim region. And later, around midnight hours, it is possible that light showers of rain will fall on the city of Jeddah, God willing.
God knows.
This article was written originally in Arabic and is translated using a 3rd party automated service. ArabiaWeather is not responsible for any grammatical errors whatsoever.