Arab weather - weather maps indicate, through computer simulations, predictions of an air mass with temperatures lower than their average rates in the northwestern and western regions of the Kingdom on Wednesday that significantly reduce temperatures, coinciding with the continuation of local cumulus formations on the southwestern sector of The kingdom.
In the details, the maximum and minimum temperatures will drop alike on Wednesday in large parts of the regions of Tabuk, Medina and Hail, so that the weather is relatively hot in those areas during the day, while it remains very hot in the rest of the Kingdom, and the winds are volatile and moderate in speed in Most of the areas, while northwest, are sometimes active in the regions of Makkah and Madinah, and are sometimes active in the south on Hafr Al-Batin, raising some dirt and dust.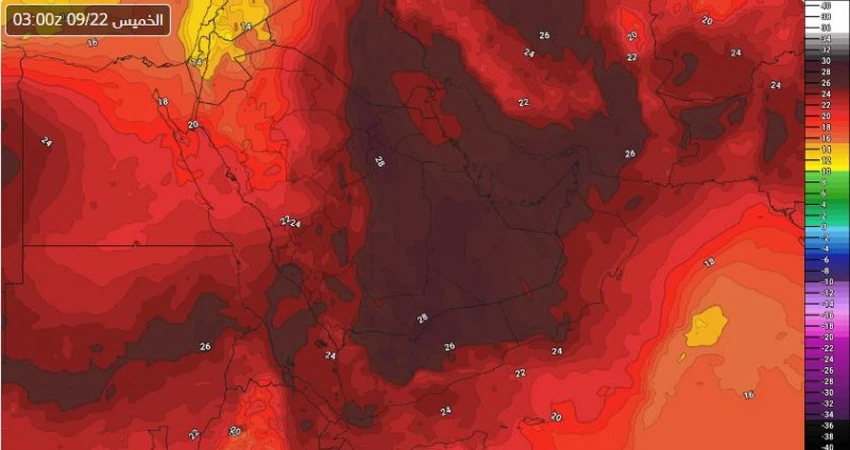 And the southwestern sector of the Kingdom continues to be affected by unstable weather conditions, so that, with the noon and evening hours, there is an opportunity for thunderstorms of rain, God willing, over scattered areas from the highlands and Tihama of Jizan, Asir and Al Baha to the eastern and southern highlands of Mecca, which may include the city of Taif itself. , These precipitations may be heavy in some neighborhoods and geographical areas and be associated with hail, which may cause the flow of valleys and reefs in some areas, in addition to the occurrence of lightning and lightning.
And the atmosphere at night turns hot, God willing, in most regions of the Kingdom, while it tends to get cold in the late night hours and early morning in the highlands of Tabuk, and surface humidity levels rise on the coastal areas, God willing.
God knows.
This article was written originally in Arabic and is translated using a 3rd party automated service. ArabiaWeather is not responsible for any grammatical errors whatsoever.