Update || Saturday 03/19/2022 at 2:15 pm
Weather of Arabia - It is expected that Saudi Arabia will be affected by a limited state of atmospheric instability on Sunday, March 20, 2022, resulting in the multiplication of cumulus clouds and the renewal of rain opportunities in scattered and random parts of the west and center of the Kingdom, which may be accompanied by lightning and thunder sometimes and the activity of downward winds, God willing.
Weather fluctuations expected on Sunday
Thunder clouds and rain and warning of downward winds in some areas
Regarding the details, the computer modeling outputs processed in the Arab Weather Center indicate predictions of the emergence of unstable weather conditions starting from the southwestern and western highlands of the Kingdom, and as a result, sporadic and random showers of rain fall, and towards the afternoon and evening hours, the area of rain precipitation increases and extends to parts of the country. Random from the region of Hail and Qassim, south of the northern border and west of the Riyadh region administratively, and it is not excluded that parts of the mentioned areas will be affected by local dust storms, which are caused by the command of God from downward winds.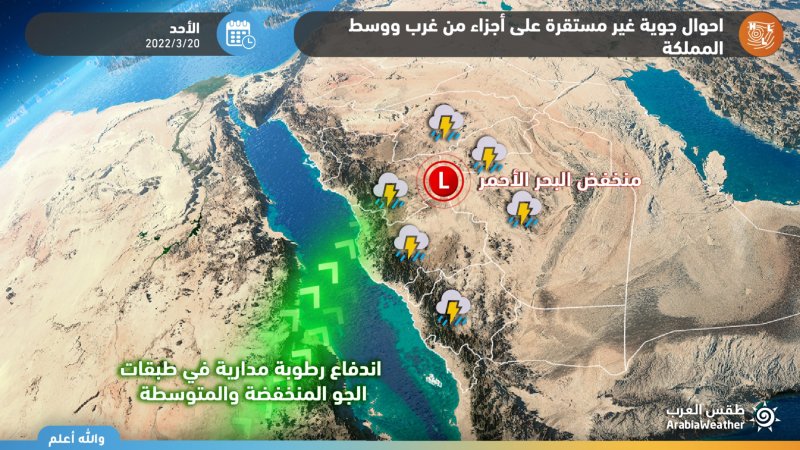 These forecasts come as a result of the approach of an air depression in the high layers of the atmosphere across Egypt and the eastern Mediterranean, accompanied by a cold and humid air mass, which leads to an effective surface response to the Red Sea depression from the south, accompanied by warm and humid subtropical air currents in the low and middle layers of the atmosphere.
Important recommendations:
Attention from thunderstorms.
Attention from the intensity of downward winds and flying objects.
Be aware of the danger of low or no horizon visibility due to dust.
This article was written originally in Arabic and is translated using a 3rd party automated service. ArabiaWeather is not responsible for any grammatical errors whatsoever.