Arab weather - Sinan Khalaf - Once again, it is expected that the Kingdom of Saudi Arabia will be affected by a new dusty situation on Monday, which is generally severe, and is expected to affect negatively and directly in many areas, and the following are the details:
Dusty weather forecast with high intensity
A new wave of dust is rushing from the north towards eastern and central Saudi Arabia on Monday
In the details, it is expected, God willing, that active northwest winds will rush towards the Northwest region with strong gusts at times, the speed of some of which exceeds the 80 km/h barrier, working to form a wave of thick dust, which is expected to emanate from eastern Syria and western Iraq, to advance rapidly towards The rest of Iraq, then Kuwait, and the Saudi lands, accompanied by a significant decline and perhaps a lack of horizontal visibility.
Weather fluctuations negatively affect your business.. Reduce these losses by clicking here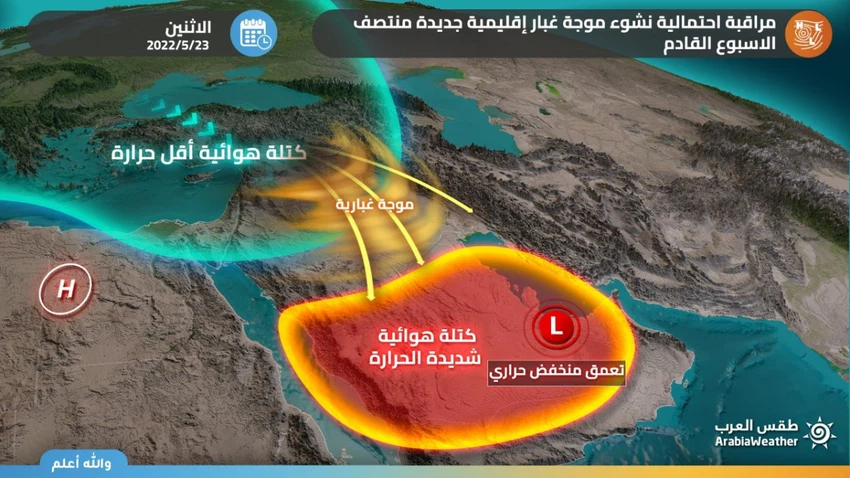 Areas covered by the forecast of strong winds and dust in Saudi Arabia
As for the areas covered by the forecast of strong winds and dust in Saudi Arabia, they are Al- Jawf, the northern borders, the Hail region and Al-Qassim, up to the capital Riyadh, in addition to large parts of the eastern region and the coasts of the Arabian Gulf, which will witness turbulence in the sea and rising waves, in addition to dusty weather in general.
Do you suffer from flight delays due to the current weather? Here is the solution by clicking here
The scientific reason behind the expected dust wave
As for the well-known reasons for the recurrence of the formation of these dust waves, they are due to the work of humid masses of less heat in the Levant region, in conjunction with the presence of a deep atmospheric temperature depression in the Empty Quarter, the Arabian Gulf region and southern Saudi Arabia, which will push strong southwesterly winds that create dense dust waves, God Know.
These weather conditions require attention from:
The danger of strong winds that may reach the 70 km/h barrier
The risk of a decrease in the range of horizontal visibility due to dust and dust stirred up
Risk of complications in patients with respiratory system and eyes due to dust
This article was written originally in Arabic and is translated using a 3rd party automated service. ArabiaWeather is not responsible for any grammatical errors whatsoever.