Arabia Weather - Our latest weather forecasts at the "Arab Regional Weather Center" indicate that the Kingdom of Saudi Arabia, with its vast area, will be affected on the 93rd National Day by a number of weather phenomena, which are as follows:
Active winds and limited chances of dust during the day in parts of the Kingdom
According to the latest weather maps, it is expected that moderate northeasterly winds will blow over the eastern and central parts of the Kingdom, specifically west of the Riyadh region, and may be active at times and may raise dust locally, especially in open areas and external roads.
Chances of thunderstorms in the highlands of Jazan, Asir and Al-Baha
The latest weather maps for rain forecasts indicate a decline in the chances of rainfall in the highlands of the western part of the Kingdom, while opportunities remain present for showers of rain in the far southwest of the Kingdom, where cumulonimbus thunderstorm clouds are expected to multiply in the afternoon and afternoon hours in some of the highlands of Jazan, Asir and Al-Baha. Rain falls in varying amounts, and is local in nature, accompanied by lightning and thunder.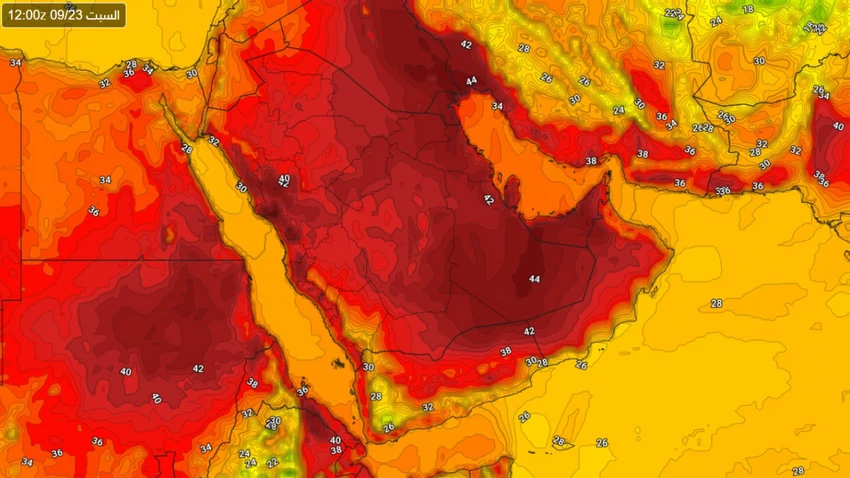 High temperatures in the north and hot to relatively hot weather in most areas
As for temperatures, it is expected to rise again in the northern regions. The weather will be hot during the day in large areas of the Kingdom and relatively hot to moderate over the southwestern mountains, and the weather at night will be relatively hot to moderate over the northern mountains and mountains, so that it is suitable for holding outdoor celebrations and events. Held on Saudi National Day 93.
This article was written originally in Arabic and is translated using a 3rd party automated service. ArabiaWeather is not responsible for any grammatical errors whatsoever.