Arab Weather - The latest weather forecasts extracted from internally developed computer modeling at the "Arab Weather" Center indicate expectations of a temporary decline in the area of weather disturbances in the southwest of the Kingdom during the next few days, while the rain is expected to intensify again with this weekend on the sector. The southwestern part of the Kingdom, as a result of the intrusion of air currents saturated with tropical moisture coming from the east as a result of the tropical situation in the Arabian Sea, provides a near-perfect environment for the proliferation of cumulus thunderclouds, God willing.
In the details, and according to the latest weather maps, it is expected that the severity of the unstable weather conditions will temporarily decrease in the southwest of the Kingdom for the next few days (Tuesday, Wednesday and Thursday), with the chances of cumulus formations remaining in the afternoon and evening hours in the Empty Quarter, Najran and southwest regions. Riyadh administratively (and it is not excluded that some cumulus clouds extend to random parts of the Riyadh region administratively) and the heights of the southwest of the Kingdom in addition to separate parts of Medina, Tabuk and Al-Jawf.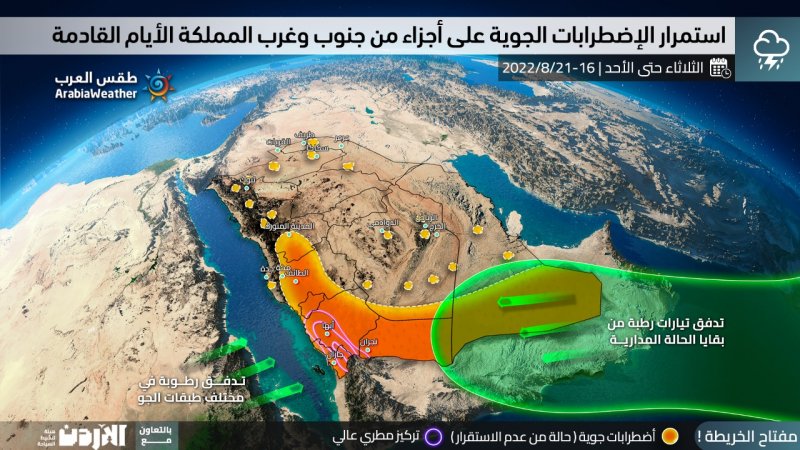 According to the latest weather readings, computer indicators indicate expectations of a tropical moisture flow resulting from the remnants of the tropical depression from the Arabian Sea to the southwestern sector of the Kingdom, as of this weekend, August 19, 2022, so that weather turbulence intensifies again and rains of varying intensity will fall on parts of the country. From the highlands and Tihama of Jazan, Asir, Al Baha and various parts of the highlands of Makkah and Madinah.
Due to the blowing of the Sharqiyat (which are easterly winds in the middle and high layers of the atmosphere), this means that the cumulus and thunder clouds that formed over the mountains earlier in the day, will find their way towards the western slopes and perhaps the coasts sometimes, extending the chances of rain during the evening and night to some coasts of Jizan, Asir and southern Makkah Al-Mukarramah, and it is not excluded that it will cause the flow of valleys and form what is called sudden torrents in a way that may sometimes be dangerous.
God knows.
This article was written originally in Arabic and is translated using a 3rd party automated service. ArabiaWeather is not responsible for any grammatical errors whatsoever.