Arab weather - m. Nasser Haddad - Jordanians are awaiting news of the snow storm this weekend, which has spread recently, amid questions about whether the matter is true or not, and how will the Kingdom be affected by this depression or snow storm?
In this news, the Arab weather clarifies the truth of the matter, what are the possibilities / possible scenarios, and the expected weather condition during the current weekend and early next week, God willing.
Forecasts (until the hour of preparing this news) on Wednesday and Thursday indicate that a part of the extremely cold air mass of polar origin will separate from the North Pole and push south through northeastern Europe towards the Black Sea, in conjunction with the intensification of the air mass throughout western and central Europe.
Difficulty simulating the trajectory of the polar mass
Various computer models suffer from the difficulty of predicting the path of the polar mass once it reaches the Black Sea, so the expected paths were compiled and sorted as follows: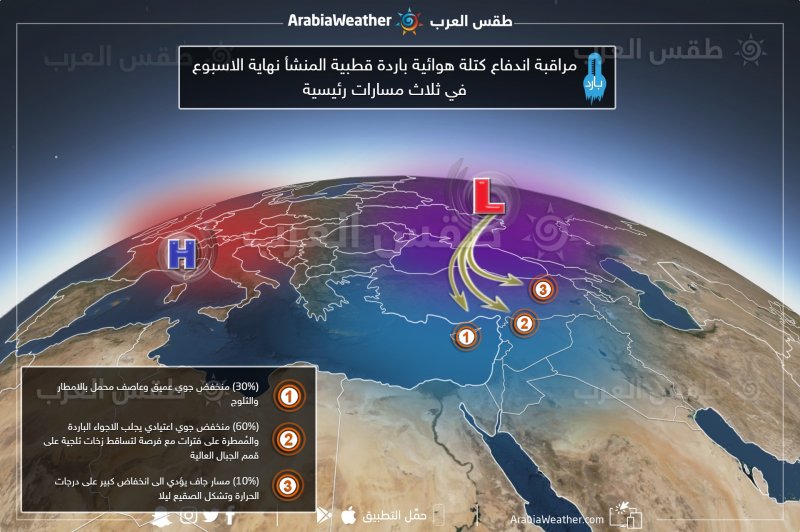 The first track ( the possibility of up to 30%): a rush of polar block towards the eastern basin of the Mediterranean Sea and is a low pressure deep with low atmospheric pressure values (less than 1000 mbar) and result in the matter Kingdom affected by severe cold and a storm with precipitation heavy atmosphere be In the form of snow obstructing some aspects of life, in all the mountainous heights.
The second path (with a probability of up to 60%): It is the average weather forecast, and this results in a normal depression centered on the Syrian coast, but it moves quickly to the east, and leads to rainfall at intervals and in the form of snow showers over the tops of the high mountains, especially the southern ones .
The third path (with a probability of up to 10%): It is a completely dry path that does not serve Jordan and its environs, and leads to the control of cold to very cold and semi-stable weather with the occurrence of frost at night, especially in the Badia regions.
Find out what the weather forecast is for the weekend
It should be noted that the probability ratios will remain highly variable during the next two days, due to the low accuracy and the inability of computer models to simulate the path of the polar mass for the moment to the Black Sea until this moment, so please follow the weather bulletins issued on a daily basis that will shed light on more details in an ascending manner. God willing.
This article was written originally in Arabic and is translated using a 3rd party automated service. ArabiaWeather is not responsible for any grammatical errors whatsoever.