Arab Weather - French farmers began to inspect their farms and calculate their losses due to the worst frost wave that has passed in the region in decades, as several regions in France were affected by a significant drop in temperatures and stability in the air, which led to the formation of frost over several nights during the past week, and this caused damage Large crops of the vineyards for which the country is famous.
Despite the measures taken by farmers to protect their crops, the buds of the vineyards are sensitive to a drop in temperatures, and experts estimate that the damage caused by the drop in temperatures, which reached -6 ° C, may be the worst in decades, in part because the frost is Unusually warm weather followed the previous week .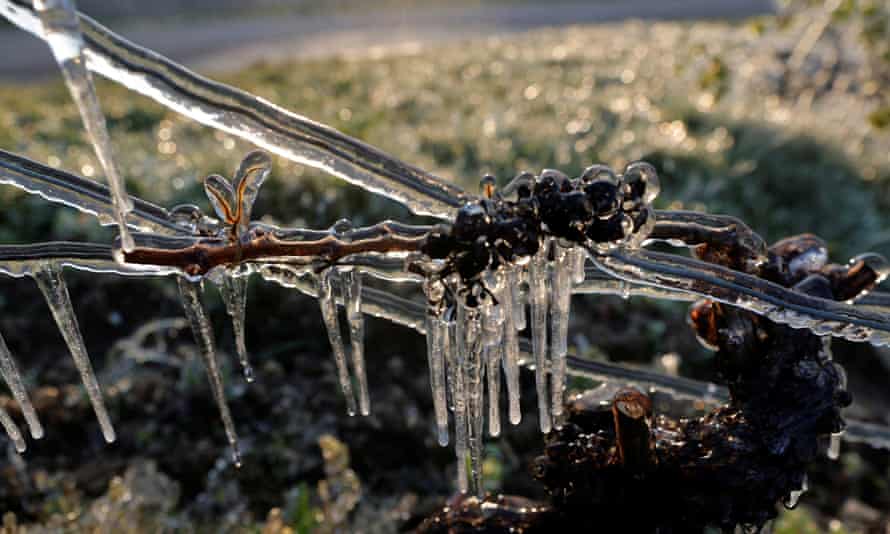 Jerome Desby, Secretary General of the FNSEA Farmers Union in the Hérault region, said that frost is a recurring phenomenon in the past, as the region was exposed to severe frosts in 1991, 1997, 2003, but this wave exceeded in intensity previous times, and experts expect that the grape crop will be smaller during The past 40 years, with losses ranging between 80-90% compared to normal.
In addition to vineyards, farmers of kiwi, apricots, apples and other fruits have been hit hard, along with those of other crops such as beets and rapeseed.
Measures of farmers in France to resist frost
1. Light a fire: In an effort to avoid frost damage in past nights, farmers across the country lit thousands of small torches and candles near vineyards and fruit trees. These large paraffin candles release enough heat to move the air and prevent frost formation.
The regional air quality watchdog has issued a warning about fine particulate pollution caused by the fires in the southeast region that includes the city of Lyon where a layer of smog was seen covering the area on Thursday.
2. Stir the air: The use of fans and wind machines helps keep the air moving to prevent frost.
Some farm owners rent helicopters to try to move the air and prevent frost formation.
3. Water sprinklers: Sprinklers help in keeping the temperature above freezing point.
The French government has declared an "agricultural disaster", meaning that it will start providing financial support to farmers, and has called on banks and insurance companies to join these efforts. Hundreds of thousands of hectares of farmland have been damaged, and many of them are not insured against the effects of frosts due to the high coverage cost.
This article was written originally in Arabic and is translated using a 3rd party automated service. ArabiaWeather is not responsible for any grammatical errors whatsoever.