Arab weather - falls on the first Tuesday of March 2022, which is the actual beginning of spring in the northern part of the globe, according to meteorology, and this is the first transitional period on the Arabian Peninsula. This period of the Arabian Peninsula witnesses significant weather fluctuations represented by many weather phenomena in a short period of time, and we review with you the most important weather conditions prevailing in the Arabian Peninsula during this period of the year.
Heavy rain and downward winds are the most prominent
Atmospheric grooves and winter depressions are the main source of rain during this period, and the atmosphere in this period becomes very sensitive in the event that any air gully deepens in the atmosphere of the region, and also interacts with the wet masses rushing from the Horn of Africa so that the rains are usually more comprehensive and wide in light of slow movement Winter depressions as a result of weak westerly winds in the high layers of the atmosphere.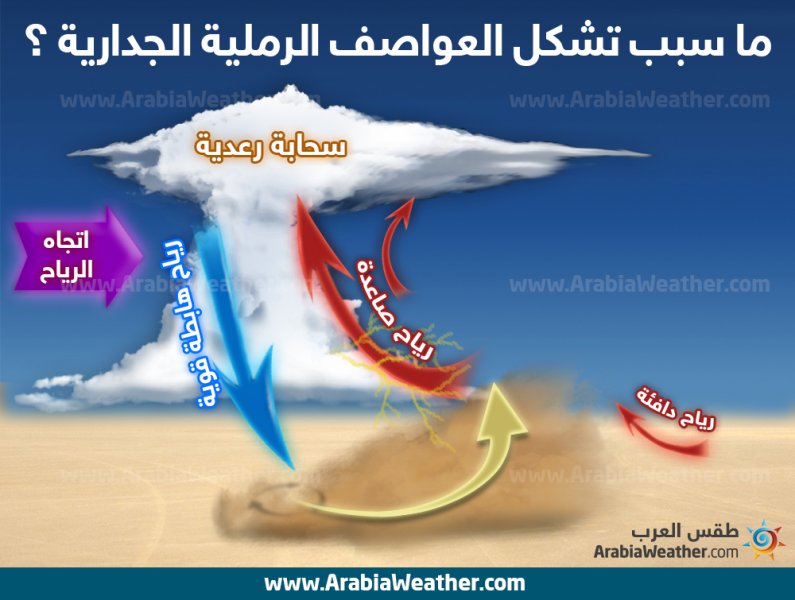 This period is characterized by a vertical build-up of cumulus clouds at the top of the atmosphere (a strong rise in the rising winds), so these great cumulus clouds are accompanied by very heavy rain in a relatively short time and with heavy cold sometimes and large in size in many cases, in addition to strong downward winds and sometimes they are enough By exposing humans to the imminent danger on land or at sea, and these downward winds may be associated with dust storms because when the downward winds hit the ground with force, it produces rotational winds that pick up dust and move it to higher heights.
air mass struggle
Temperatures rise during this period, due to the change in the angle of the sun's rays above the average widths of the globe. After a cold winter, the warm air masses that are resistant to the winter cold masses begin to form during the spring season over the deserts, and from here the conflict between the air masses begins, and the chance of exposure becomes higher. for heat waves.
It is worth noting that numerical models suffer during the transitional period, including the spring period, with great difficulty in simulating the expected pattern in light of the great convergence that occurs in the atmospheric pressure values between land and sea. Errors in computer modeling are known to the scientific community during this period and are known as (Spring Barrier Weather Prediction).
This article was written originally in Arabic and is translated using a 3rd party automated service. ArabiaWeather is not responsible for any grammatical errors whatsoever.