Weather of Arabia - The latest weather readings indicate expectations that the Sultanate's atmosphere will be affected on Monday 3-27-2023 by a groove from an air depression coming from the northwest and gradually bringing rain to the governorates of Musandam, Al-Buraimi, Al-Dhahirah and North Al-Batinah, and later during Tuesday and until Wednesday morning it extends Rain for the rest of the provinces, God willing.
Monday: Rain begins in some governorates of the Sultanate
And in the details, it is expected that the weather will be partly cloudy to cloudy in all the governorates of the Sultanate on Monday, and the opportunity will gradually be created for sporadic showers of rain in the governorates of Musandam, Al Buraimi, Al Dhahirah, North Al Batinah and parts of the Hajar Mountains, and the rain may be heavy at times. It is accompanied by the occurrence of thunder, and the southwesterly winds are active in parts of Dhofar, Al Wusta, Al Dhahirah and Al Buraimi, and work to stir dust and dust in the desert areas, and thus decrease the horizontal visibility.
The air groove deepens on Tuesday, and rain covers most of the governorates, and recommendations regarding the possibility of valleys and reefs flowing in some areas
And the depression deepens in the upper layers of the atmosphere over the Sultanate's atmosphere on Tuesday, and that coincides with the rush of amounts of moisture in the low and middle layers of the atmosphere from the Arabian Sea, and this weather system causes an intensification of rainy activity and the spread of rain to most of the governorates of the Sultanate, God willing.
It is expected that these clouds will be accompanied by medium to heavy rains, thunderstorms at times, and hail showers at times, which may lead to runoff in valleys and reefs and a rise in the water level on roads in some areas.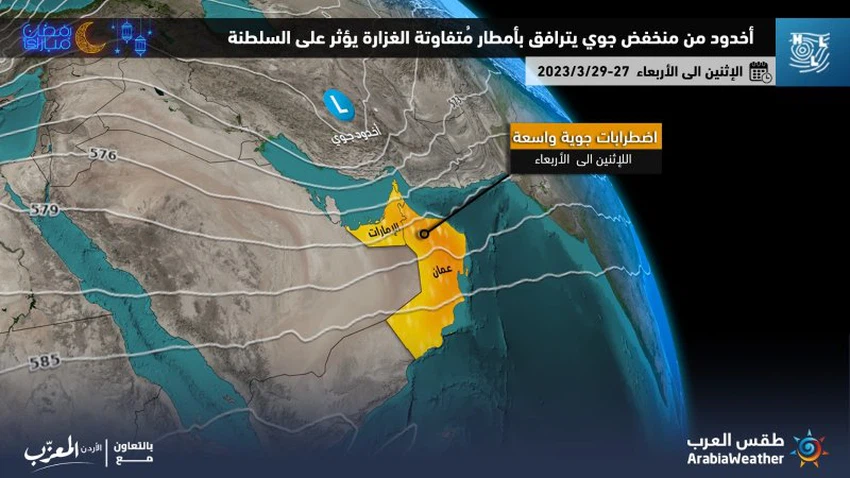 The weather groove is used to Wednesday and a relative drop in temperatures
The depression will move to the east on Wednesday and move away from the Sultanate's airspace, so that the chances of rain weaken in most regions, except for parts of the coasts of the Arabian Sea. And it is expected, God willing, that the Sultanate will be affected by the extension of the air elevation, so that temperatures tend to decrease, especially at night hours.
God knows.
This article was written originally in Arabic and is translated using a 3rd party automated service. ArabiaWeather is not responsible for any grammatical errors whatsoever.