Weather of Arabia - A team of researchers has found evidence showing that parts of major coastal cities are sinking faster as a result of rising sea levels.
The team of scientists, led by Nanyang Technological University of Singapore (NTU Singapore), the University of New Mexico, the Institute of Technology in Zurich (ETH Zürich), and NASA's Jet Propulsion Laboratory, operated by the California Institute of Technology, processed satellite images of 48 of the largest coastal cities. Worldwide from 2014 to 2020 to measure land subsidence rates, the study found that cities such as Tianjin (China), Ho Chi Minh City (Vietnam), Chittagong (Bangladesh), Yangon (Myanmar) and Jakarta (Indonesia) are experiencing rapid land decline.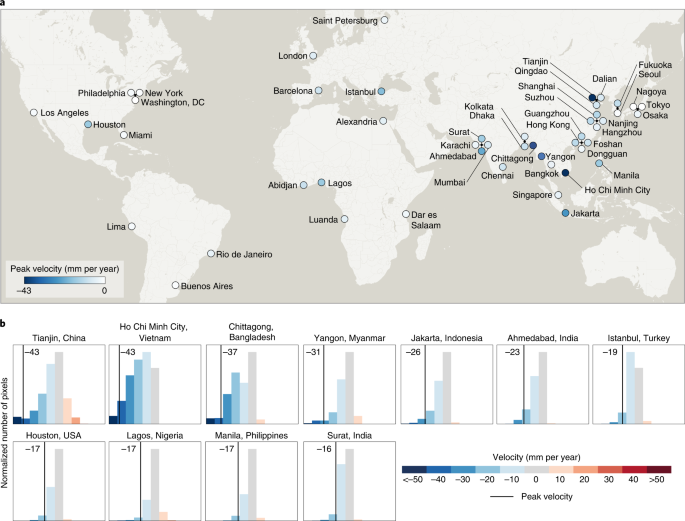 The research team, in its scientific paper published in the journal Nature Sustainability , indicated that it used satellite-based radar to measure the degree of land subsidence in 48 of the largest cities in the world.
Global warming and land subsidence are causing coastal cities to sink at a faster rate
Previous research has shown that global warming is melting ice around the world, which leads to rising sea levels, and this increase in sea levels is a major concern for cities and towns located on the fringes of watery coasts, but many cities - according to the study - It is also facing another problem: subsidence, where the land is sinking due to the removal of groundwater or gas and the compaction of the earth from the sheer weight of the buildings above it.
In this practical new effort, the researchers note that rising sea levels as land sinks could lead to major problems for coastal cities in the next few years. To learn more about how deep the problem is, the researchers were able to access and analyze radar data from NASA satellites that measure Land elevation around the world.
In all, the researchers measured subsidence in 48 of the world's largest cities over the years from 2014 to 2020, and found that nearly all of the cities they studied experienced some degree of subsidence, and in 44 of them, some areas were sinking at a faster rate due to sea height.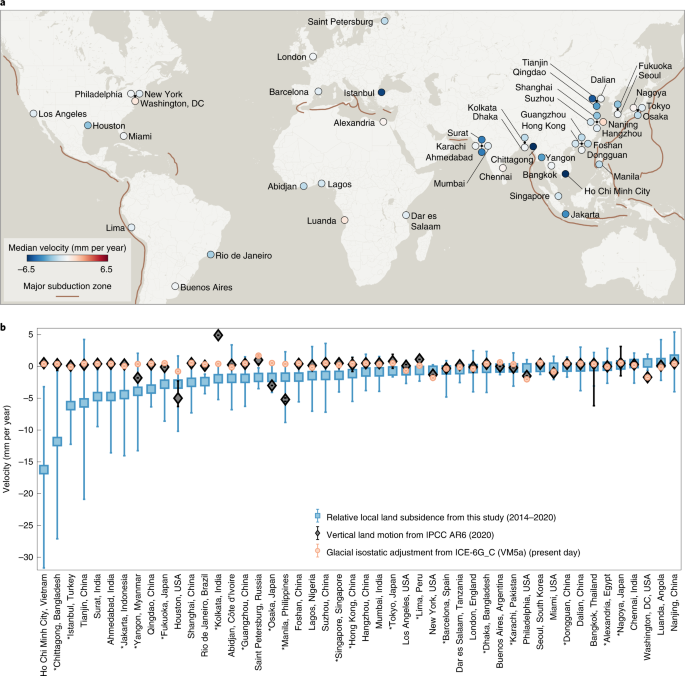 Previous research has shown that sea levels are rising by about 3.7 mm each year, but the researchers found in their study that some parts of these cities are experiencing land sinking at a rate of up to 20 mm per year.
The average sinking rate for the Vietnamese city of Ho Chi Minh, for example, was 16.2 millimeters per year, the study found. The city will be under water by 2030 if measures are not taken to curb sea rise.
Sea level rise caused by climate change has received significant attention from researchers, practitioners, and the public as an ongoing threat that must be addressed, and thus international efforts have been brought together through the Intergovernmental Panel on Climate Change (IPCC) to assess the future risks of climate change and sea level rise, and to assist policy makers. in developing sustainable adaptation and mitigation strategies, according to the study.
But researchers point out that less attention is paid to the subsidence of the land in front of the phenomenon of the sinking of coastal cities, and this new phenomenon is the sinking of the land at rates that can exceed tens of millimeters per year 2, 3, 4, which can increase the relative rise in sea level several times more than The average global sea level rise is a few millimeters per year. Moreover, many of the coastal areas with the fastest rates of land subsidence are major cities built on flat, low-altitude river deltas, exposing large populations and great economic value to serious impacts.
This article was written originally in Arabic and is translated using a 3rd party automated service. ArabiaWeather is not responsible for any grammatical errors whatsoever.