Weather of Arabia - A recent American study revealed that people can hold back from helping the needy, and be less generous and generous in paying donations due to lack of sleep.
The study, published in the journal PLOS Biology, on Tuesday (August 23), explained that this behavior is linked to decreased activity in the brain network, which is normally activated during prosocial behavior, such as altruism and helping others.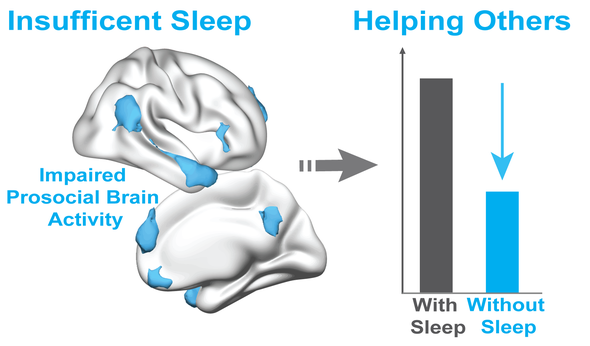 Whether individuals experience a night's sleep deprivation, experience a normal change in sleep, or even simply miss an hour of their usual sleep, the decision to help people or even donate can be affected by the lack of sleep, according to the findings.
Eti Ben-Simon, a researcher in psychology at the University of California, America, who specializes in studying the consequences of sleep loss on the human brain and body, and co-authored the study, explains that "human beings help each other; help is a hallmark of Homo sapiens, and through this cooperative assistance, modern civilization has Possible, but what determines whether individuals, groups, or entire societies decide to help one another, or choose indifference? .
"In this study, we showed that inadequate sleep is a previously unrecognized causal factor that determines whether humans choose to help each other," Ettie says.
The effect of lack of sleep on human behavior with the help of others
To arrive at the study's findings, the team conducted three different experiments to examine how lack of sleep affects this basic human behavior, which are as follows:
In the first experiment, individual willingness to help others and brain activity were assessed by filling out a questionnaire about self-reported altruism after a night of normal sleep and after a night of sleep deprivation, and the brain activity of these individuals was assessed using functional magnetic resonance imaging.
In the second experiment, another group of people was asked to fill out a questionnaire about altruism and to report their average nightly sleep and its relationship to helping others.
In the third experiment, the team assessed the amount of donations people made in the United States during the weeks before and after daylight saving time was implemented; People lost an hour of their sleep at night.
Functional magnetic resonance imaging (fMRI) showed that sleep deprivation impairs the activity of the brain network, which is normally active during prosocial behaviors. Fewer in the third experiment, which recorded a 10% decrease in donation amounts after losing an hour of sleep.
There are three main findings of this study, Etty adds. The first is that sleep loss (complete deprivation and even modest reductions that vary from one night to the next) causes individuals to have less willingness to help others, even though these individuals report wanting to help after one night. Restful sleep This was noticeable even when the negative impact of sleep loss on mood and motivation was considered.
"Interestingly, and contrary to classical theories that assume that people are more likely to help their closest relatives, lack of sleep also impairs motivation to help others regardless of whether they are asked to help strangers or even close relatives (such as friends and family), meaning that less Sleep leads to the emergence of a phenotype of social behavior with a wide influence, including not only strangers, but even close ones.
Regarding the second finding, functional MRI results revealed significantly weaker activity in areas of the brain that function when people empathize with others or try to understand other people's wants and needs, including the need for help. About lack of sleep, and the third discovery was that the effect of sleep loss did not fall on individuals only, but was recorded at the level of society; Daylight saving time resulted in a loss of one hour of sleep, dramatically reduced altruism in helping an entire nation, as demonstrated by an analysis of more than 3 million charitable donations made in the USA between 2001 and 2016.
Inadequate sleep harms not only mental and physical health but also the bonds between individuals
Eti pointed out that these discoveries prove that lack of sleep reduces the innate desire in humans to help each other, and the findings add to the growing body of evidence that proves that inadequate sleep not only harms an individual's mental and physical health, but also harms the bonds between individuals. Even the altruistic feelings of an entire nation, given the importance of human assistance in maintaining civilized and cooperative societies, combined with the severe erosion of bedtime over the past 50 years, the implications of these discoveries are significant.
It is time for us as a society to let go of the idea that sleep is unnecessary or a waste of time, and without feeling embarrassed, we have to get the sleep we need, it is the best form of kindness we can offer ourselves, as well as for the people around us.
This article was written originally in Arabic and is translated using a 3rd party automated service. ArabiaWeather is not responsible for any grammatical errors whatsoever.