Arab Weather - Forecasters at the "Arab Weather" Center said that the latest received satellite images show the concentration of a region of low pressure near the coast of India (Gujarat) with chances of its development during the next 24 hours to a tropical depression, with chances of high and medium clouds flowing Over the atmosphere of the Sultanate of Oman and the activity of local formations on parts of the Hajar Mountains during the afternoon and evening hours during the next few days.
In the details, the specialists at the Arab Regional Weather Center for Meteorology and Forecasting closely follow the latest satellite images and remote sensing observatories, as they indicate the presence of a region of low atmospheric pressure centered to the northeast of the Arabian Sea, and the surface wind speed around the center is estimated at about 14- 17 knots. It is expected that the disturbance will develop into a tropical depression near the Indian coast (Gujarat) within the next 24 hours, God willing. According to the numerical models issued by super-powered computers, which in turn sense the movement of the depression and present several different scenarios, some numerical models suggest the movement of the tropical depression to the south of Pakistani territory as a result of the pressure of the monsoon winds on the lower part of the depression, pushing it to Pakistani territory, according to This possibility is that all Arab countries are far from the direct effects of the tropical depression, as the effects are limited to the form of cloud flow at high and medium altitudes to the Sultanate's atmosphere.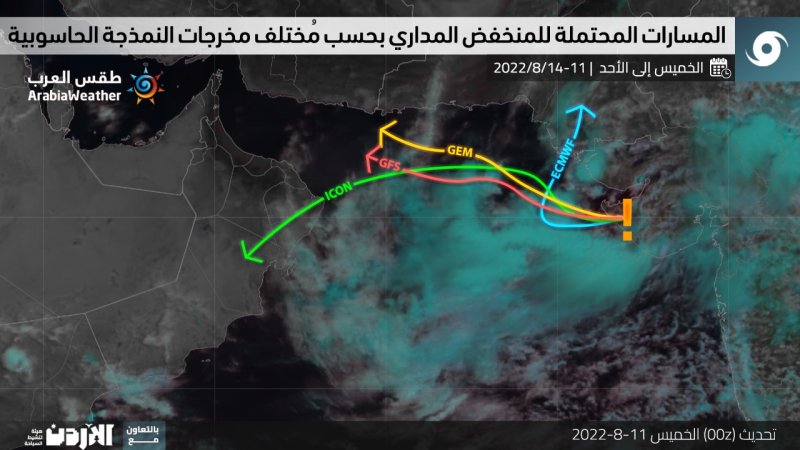 While the outputs of other numerical models indicate its movement towards the Sea of Oman, bringing with it some rainy cumulus clouds to the Sultanate of Oman. Also, some other outputs indicate that the tropical depression has moved directly to the Omani lands, which makes the region vulnerable to being affected by high amounts of rain, but this possibility is the weakest due to the small number of products that sense this path.
The specialists in operations management in the "Arab Weather" Center periodically review (around the clock) the outputs and analyzes of the weather readings and issue updates if necessary.
This article was written originally in Arabic and is translated using a 3rd party automated service. ArabiaWeather is not responsible for any grammatical errors whatsoever.