Arab Weather - It is expected that southwesterly winds will continue to blow over the Sultanate in the coming days, increasing temperatures in the interior regions of the Sultanate of Oman, in addition to parts of the coastal areas of the Sea of Oman, including the capital, Muscat, so that hot and dry weather prevails in general.
Chances of rain in narrow bands
The rain is concentrated on the middle stone
In the details, it is expected that hot, dry southwesterly winds will continue to blow from the Empty Quarter desert as a result of the deepening of the thermal depression in southeast Saudi Arabia, which raises temperatures to levels approaching the 45 degrees Celsius barrier in the interior regions , and thus hot weather prevails. It is exhausting and dry, and these winds stir up dust and dust in many areas, especially desert areas, and a decrease in the range of horizontal visibility. . . . . . . . . . . . . . . . . . . . . . . . . . . . . . . . . . . . . . . . . . . . . . . . . . . . . . . . . . . . . . . .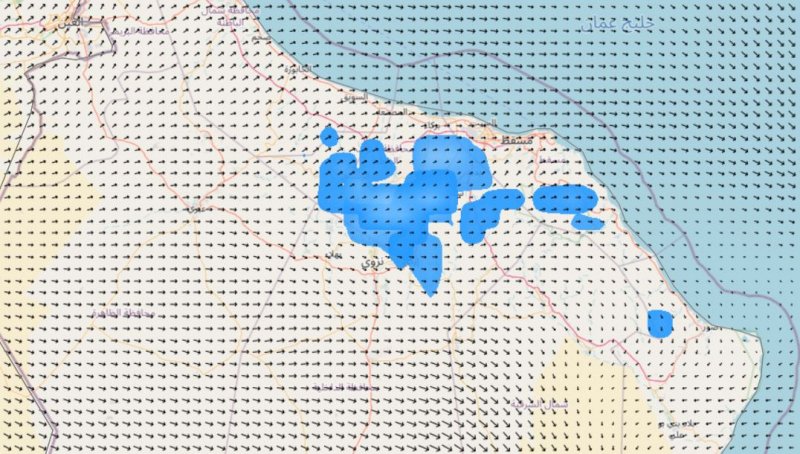 And since the hot currents affecting the Sultanate are dry in characteristics, the local formations are in narrow geographic ranges, with the chances of rain precipitation concentrating on the central stone , with the possibility of some of these formations extending towards the coastal areas of the Sea of Oman, due to the fact that the winds controlling the movement of clouds are from west to southwest. The rains will be of varying intensity, they may be heavy in some geographical areas, and they are accompanied by the activity of downward winds that raise dust and dust sometimes.
Arab Weather notes the need to adhere to the following instructions to prevent sunstroke and the risk of heat stress
Alerts and recommendations
Avoid direct and prolonged exposure to the sun, especially in the afternoon and afternoon times.
Drink sufficient amounts of water to hydrate the body and compensate for the fluid deficiency caused by sweating.
Do not leave children inside the vehicle due to thermal storage.
This article was written originally in Arabic and is translated using a 3rd party automated service. ArabiaWeather is not responsible for any grammatical errors whatsoever.