Arab Weather - The latest output of our computer simulation systems in Arab weather indicates the continuity of renewed rain opportunities on the heights of the Hajar Mountains on Monday, following the continuous rush of moist air currents coming from the Arabian Sea and the Sea of Oman, and the following are the details:
If you are browsing from your phone, you can download the new Arabia Weather application, which provides accurate weather forecasts for thousands of regions in the Sultanate, click here.
Renewed thunderstorms on the stone heights
Chances of rain focus on the eastern stone
In the details, it is expected that thunderstorms will form again from noon on Monday in parts of the Al-Hajar Mountains, especially the Eastern Al-Hajar, and the opportunity will gradually arise for showers of thunderstorms, which may be heavy at times in separate parts, accompanied by showers of cold, especially on the tops of the mountains. It extends over some neighboring areas during the afternoon and evening hours.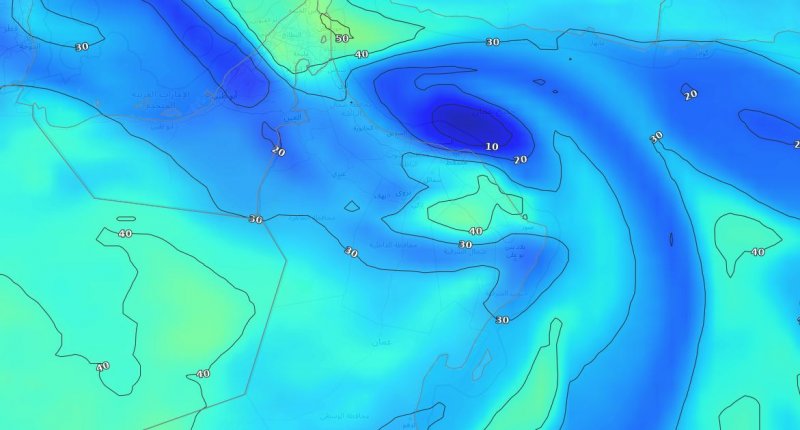 At the same time, the humid winds continue to rush towards the coasts of Dhofar Governorate, including the city of Salalah, which leads to the spread and formation of autumn clouds on a daily basis. The extent of horizontal visibility and perhaps its lack in some areas, especially in desert areas.
.
This atmosphere calls for caution from:
The danger of wadis and torrents running in some areas, especially Al-Hajar Al-Sharqi and the surrounding areas.
Low visibility due to dust and dust raised in parts of the desert areas.
This article was written originally in Arabic and is translated using a 3rd party automated service. ArabiaWeather is not responsible for any grammatical errors whatsoever.