Update || Saturday 7/24/2021 pm at 1:00 pm
Arab Weather - The data of the numerical forecast models operating in the Arab Weather indicates an expected continuation of the flow of moist air coming from the Arabian Sea towards the region, which leads to the continued emergence of unstable weather conditions accompanied by thunderstorms in many regions of the Sultanate, with varying intensity and intensity throughout Next week, God willing.
Intensity of rain and areas covered next week
Rain concentrates on the Hajar Mountains and the coast of Dhofar
In the details, it is expected on a daily basis that the Sultanate's sky will cross moist air currents coming from the Arabian Sea and the Sea of Oman, coinciding with the deepening of the atmospheric temperature depression located in the southeast of the Kingdom of Saudi Arabia, which creates turmoil, resulting in the formation of thunderstorms and rain with varying severity, including the mountains Al-Hajar, extending at intervals during the afternoon and evening hours towards neighboring areas from time to time and some desert areas, as rain is expected to cover large parts of the north of the Sultanate, with its intensity focusing on the middle stone.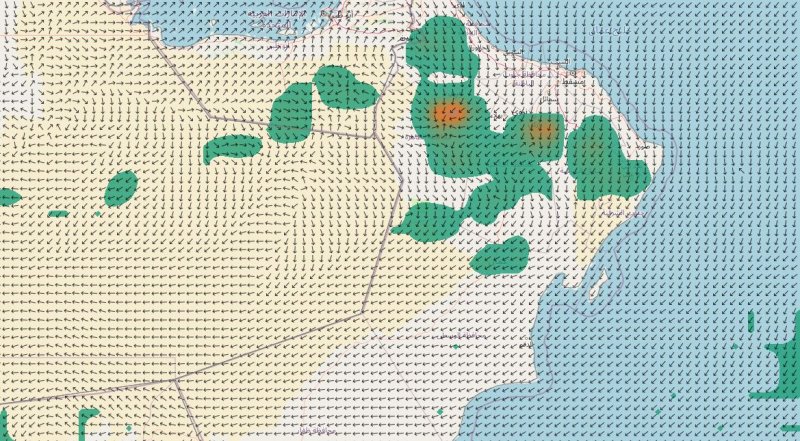 Simultaneously, humid winds continue to rush towards the Wusta and Dhofar governorates, which leads to the spread and formation of clouds on a daily basis during the next week in random areas, with the intensity of rain concentrating on the Dhofar coast, including the city of Salalah, and the activity of convective thunderstorms sometimes accompanied by activity downward winds, which may lead to the emergence of local dust waves that reduce the horizontal visibility and may lack it in some areas, especially in desert areas.
Arab Weather warns during the rainy situation of:
Intensity of thunderstorms.
The danger of torrential rains.
Intensity of downward winds associated with thunderstorms.
Danger of reduced horizontal visibility due to dust waves caused by downward winds.
Arab Weather advises everyone to follow up on updates to find out what's new about the rainy situation, and we also put in your hands a link to satellite images to follow the development of thunder clouds, moment by moment.
This article was written originally in Arabic and is translated using a 3rd party automated service. ArabiaWeather is not responsible for any grammatical errors whatsoever.