Arab Weather - The latest weather readings in the Arab Weather Center indicate expectations of a deepening of the depression groove in conjunction with the rush of a moist air mass from the Arabian Sea, so that quantities of clouds multiply at different heights interspersed with cumulus clouds associated with rain of varying intensity in some governorates of the Sultanate, God willing.
And in the details, the weather on Wednesday is expected to be volatile between partly cloudy and mostly cloudy in the Sultanate, and the opportunity is gradually created for rains of varying intensity in Musandam, Al Buraimi, North Al Batinah, Al Dhahirah and Al Dakhiliyah, and the rains are sometimes heavy and accompanied by falling grains. From the cold, which may lead to the flow of valleys and reefs in some areas, and it is possible that sporadic rain will fall on parts of the south of Al Batinah, Al Hajar Al Sharqi and the coasts of Dhofar. It is expected that the opportunity will remain ripe for showers of snow to fall over the peaks of Jabal Shams.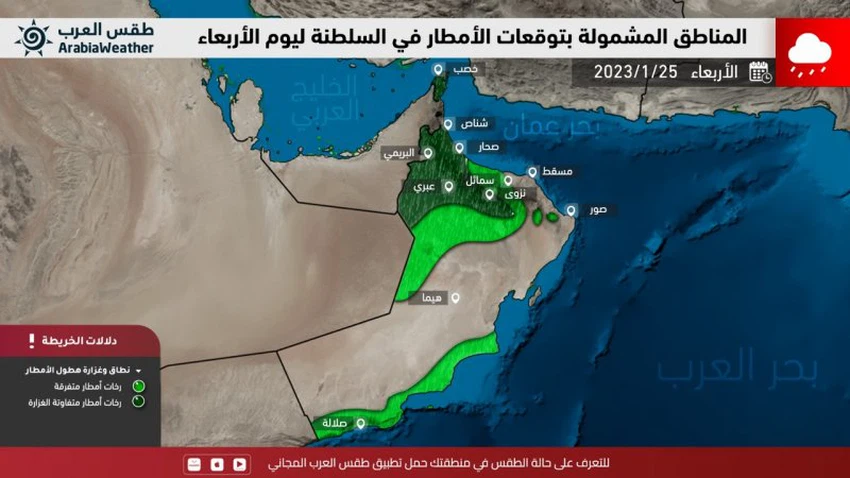 And the analyzes of specialists in the Arab Weather Center indicate that it is expected that the range of rain clouds will expand on Thursday and Friday, to better cover the governorates of Dhofar, South Al Batinah, North Al Sharqiyah, Al Wusta, Dhofar, and perhaps limited parts of the south of Al Sharqiyah, in conjunction with the continuation of rain opportunities with high The varying abundance over the rest of the Sultanate's governorates, including Musandam, Al Buraimi, Al Dhahirah, Al Dakhiliyah and North Al Batinah, which are expected to bring excellent amounts of rain, God willing, with a high probability of flooding of valleys and reefs, and perhaps torrential rains in some areas.
God knows.
This article was written originally in Arabic and is translated using a 3rd party automated service. ArabiaWeather is not responsible for any grammatical errors whatsoever.