Weather of Arabia - It is expected that the Sultanate will be more affected by the upper latent over the southern Arabian Peninsula, so that temperatures will rise further during the weekend to approach 50 degrees Celsius in some eastern states.
Very hot and exhausting weather in most areas
There is an additional rise in temperature at the end of the week, so that temperatures are recorded in the mid-forties in the interior regions, while approaching 50 degrees Celsius in parts of the eastern states located in the governorates of Al Dakhiliyah and North Al Sharqiah, especially on Saturday, and the coastal areas will not be immune to these hot weather So that the temperatures are in the late thirties, in addition to the high humidity, which means that a gloomy atmosphere prevails in these areas. As for at night, the weather is generally hot in most areas of Oman.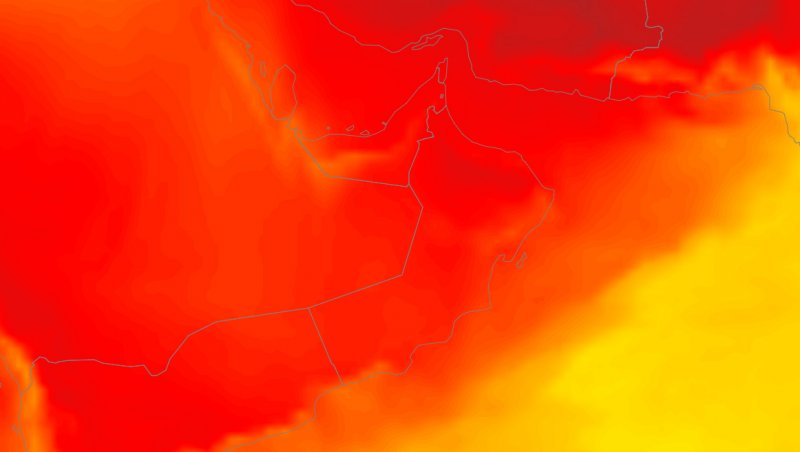 Amounts of clouds appear at different heights, and in the afternoon hours there is an opportunity for local showers of rain in parts of the Hajar Mountains, which may be accompanied by thunder sometimes, and the winds are variable in direction of moderate speed, active at intervals and causing dust and dust in some desert areas. The waves are light to medium in height in the Sea of Oman, and remarkably high in the Arabian Sea.
As for the coming week, it should be noted that an additional increase in temperatures is expected to reach the fifties in many regions, in conjunction with activity on the speed of dust-inducing winds in many western regions, and the reason for this significant increase in temperatures is due to hot westerly winds. Dry, hot weather prevails in general, and is associated with the effect of the thermal depression in the Empty Quarter.

Given the expected intensification of the hot weather in the coming days, there are a set of important recommendations that must be taken seriously in dealing with such an atmosphere, summarized in the following points:
Avoid exposure to the sun all hours of the day.
Drink plenty of cold fluids and refreshments throughout the day and even at night, even if you don't feel thirsty.
It is advised not to exert physical exertion outside most of the time, even at night, because the low wind speed, the dryness of the atmosphere completely, and the high temperatures will increase the so-called heat stress.
Attention not to leave sterilizers and any flammable materials inside the vehicles.
Attention not to leave children inside vehicles, even for a short period of time.
This article was written originally in Arabic and is translated using a 3rd party automated service. ArabiaWeather is not responsible for any grammatical errors whatsoever.