Update || Monday 7/19/2021 pm at 1:00 pm
Arab Weather - Once again, it is expected that the impact of unstable weather conditions will increase on the northern regions of the Sultanate of Oman during Tuesday, which coincides with the first day of the blessed Eid al-Adha, as a result of the influx of more moist air coming from the Arabian Sea towards the region, and its collision with less hot air currents in The upper layers of the atmosphere coming from the north and accompanying a western wave.
Intensity of rain and areas covered by it Tuesday
Heavy rain sometimes accompanied by heavy hail
It is expected that currents with lower temperatures in the upper atmosphere will rush in conjunction with the continued flow of currents saturated with moisture necessary to build dense clouds with a large vertical extension of a tropical source on Tuesday, and given the large temperature difference between the cold air at the top and the warm air in the layers near On the surface of the earth, the clouds are expected to be strong and dense, and convective currents that supply thunderclouds with the energy needed for their development and that raise the chances of heavy hail showers, especially in the heights of the Hajar Mountains, will be activated.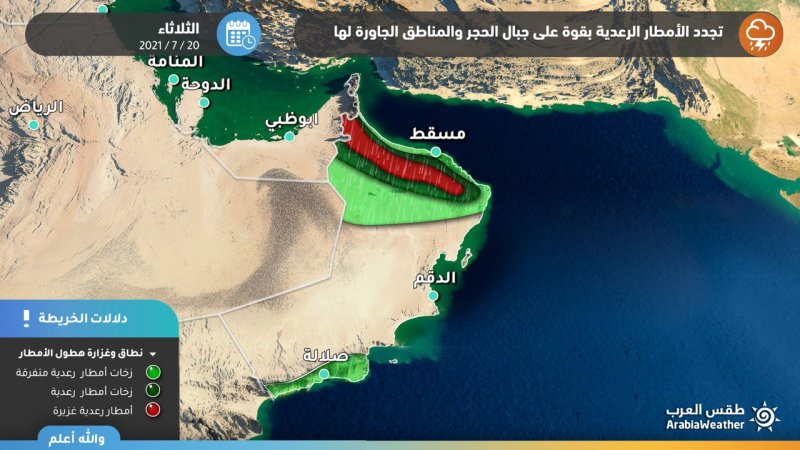 The rain is concentrated on the Hajar Mountains and the surrounding areas
In the details, it is expected that at noon on Tuesday, thunderstorms will begin to form on the Al Hajar Mountains, accompanied by thunderstorms of varying intensity, and heavy cold will fall sometimes. In the afternoon and evening, these clouds extend towards neighboring areas and parts of the Oman coast, to include The rain is in large parts of the northern governorates of the Sultanate, including the capital, Muscat, with the intensity of rain focusing on the governorates of Al Dakhiliyah, Al Dhahirah and parts of Al Buraimi. The rains are sometimes thunderous and of varying intensity in general, accompanied by showers of hail and the activity of downward winds, which raise dust and dust in some areas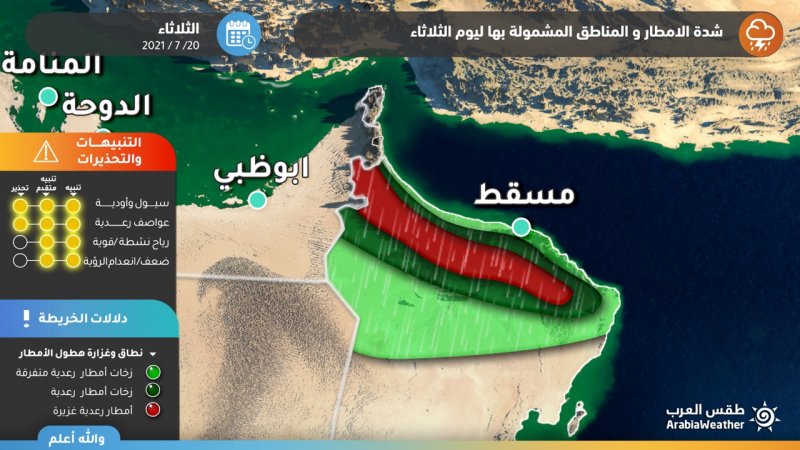 Arab Weather advises everyone to follow up on updates to find out what's new about the rainy situation, and we also put in your hands a link to satellite images to follow the development of thunder clouds, moment by moment.
In terms of temperatures, it is expected that temperatures will tend to rise gradually to return to their normal rates in the coming days, with the weather returning to be hot during daylight hours throughout the interior, while it is more moderate in coastal areas.
Arabia Weather warns during the rainy weather of:
Intensity of thunderstorms.
The danger of torrential rains.
Intensity of downward winds associated with thunderstorms.
Danger of reduced horizontal visibility due to dust waves caused by downward winds.
This article was written originally in Arabic and is translated using a 3rd party automated service. ArabiaWeather is not responsible for any grammatical errors whatsoever.