Arab Weather - The latest weather readings of computer simulation models developed in Arab weather indicate expectations that the rainy situation will enter the peak of its impact on the Sultanate on Thursday, so that the extent and intensity of rain will increase in different parts of the country to include large areas, God willing, and it is expected that rain will be heavy in Some areas cause the risk of flash floods and flash floods.
According to the same maps, thunderstorms are expected to start flowing into some coastal areas overlooking the Sea of Oman with the late hours of Wednesday/Thursday night, gradually extending to some northern governorates. Towards the dawn and early morning hours of Thursday, an increasing flow of thunderstorms is coming to the coastal areas of the Sea of Oman, especially the governorates of North Al Sharqiah, South Al Sharqiah, Muscat, Al Dakhiliyah and South Al Batinah.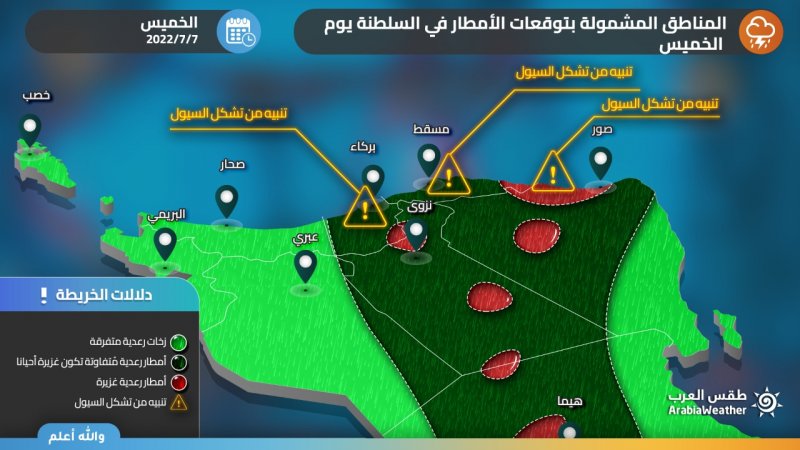 It is expected that the rains will extend over parts of the governorates of North Al Batinah, Al Buraimi, Al Dhahirah, and parts of Al Wusta and Dhofar. desert.
Based on the above, there are a number of important recommendations that must be taken seriously regarding weather conditions, including:
It is necessary to pay attention to the dangers of sudden torrential formation in valleys, reefs, low-lying areas and the usual water gathering areas.
The need to pay attention to the same dangers, to stay away from valleys.
Stabilizing external holdings due to the danger of strong downward winds that come temporarily and suddenly.
Attention to low horizontal visibility due to the possibility of dust associated with thunder clouds.
Do not use electronic devices outside when there are cumulus thunder clouds, and take shelter inside buildings when lightning strikes.
This and God knows
This article was written originally in Arabic and is translated using a 3rd party automated service. ArabiaWeather is not responsible for any grammatical errors whatsoever.