Arab weather - It is expected that southwestern currents will continue to rush from the Arabian Sea towards Oman, following the rise of the tropical separator to the north, which leads to the emergence of unstable weather conditions in some areas, for the proliferation of thunderstorms and rain falling heavily, varyingly, God willing.
Normal temperatures in Oman
During the coming days, the weather is expected to be normal, summer, and naturally hot, with temperatures around their normal rates, due to the rush of northern and southwestern air currents with a marine source, which reduced the intensity of the scorching weather and the fiftieth temperatures that Oman witnessed a few days ago, as the temperatures are around the beginning of the year. The forties in most states, and the winds are variable in direction and moderate in speed, energizing at times and causing dust and dust in some desert areas.

During the night hours, warm weather prevails in general, and humidity levels rise, and during the late night hours there is an opportunity for fog to form in parts of the coasts of Oman, especially the coasts of the governorates of Dhofar, Al Wusta and Al Dakhiliyah.
Possible thunder showers in some areas
It is expected that the flow of tropical moisture towards the region will directly affect parts of the Al Hajar Mountains and the surrounding areas, in addition to the Dhofar Governorate , where, in conjunction with the eruption of tropical moisture, a thermal depression is concentrated in the Empty Quarter, which contributes to the emission of rising currents that enhance the process of building rain clouds.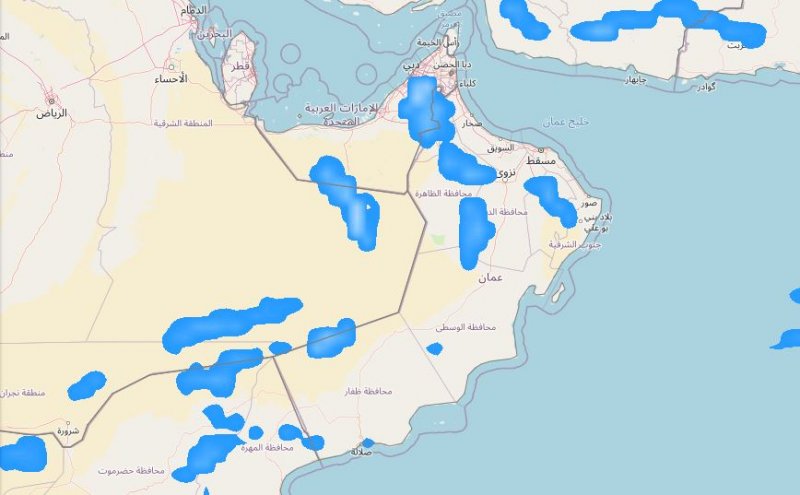 When talking about temperatures, it is expected that the northern and eastern air currents, humid and normal temperatures, will continue to rush, remaining in the early forties in most northern states and normal summer weather, while the weather is more moderate on the coastal areas.
This article was written originally in Arabic and is translated using a 3rd party automated service. ArabiaWeather is not responsible for any grammatical errors whatsoever.