Update || Saturday, 08/21/21 pm at 12:30 pm
Arab Weather - The latest output of our computer simulation systems in Arab weather indicates the expansion of the impact area of cumulus thunderclouds on the heights of the Hajar Mountains, to include large parts of the middle and western stones with varying severity, God willing, and these details:
Heavy thunderstorms in narrow geographic ranges
Areas covered by Sunday rain forecast
In the details, it is expected that the daily and seasonal thunderstorms will multiply on the heights of parts of the Al-Hajar Mountains, extending with the afternoon and evening hours towards the neighboring areas and some desert areas, with their concentration on the interior and Al-Zahira and with less intensity Al-Buraimi, Al-Sharqiyah and Al-Wusta, and the rains will be of varying intensity, heavy in the Some narrow geographical ranges, which works on the flow of valleys and reefs in some areas.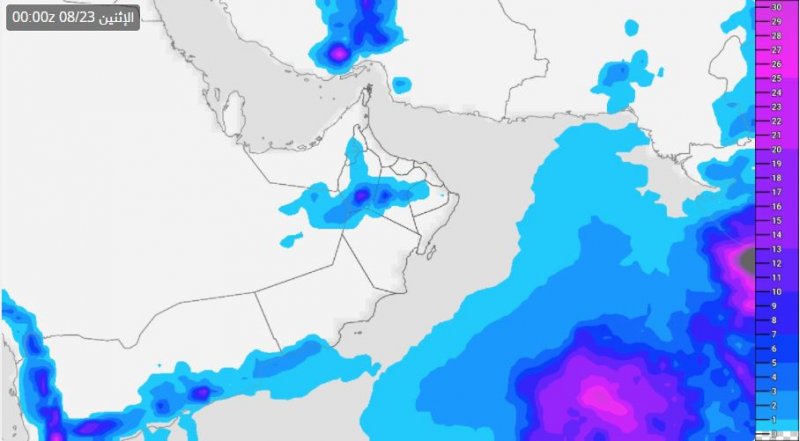 The winds will be southeasterly moderate in speed, active at times and exciting to dust and dust. It is expected that the activity of the autumn clouds will continue to weaken on the coasts of Dhofar and the city of Salalah, provided that the condensation of the autumn clouds improves during the middle of the week, coinciding with the continuation of temperatures below their normal rates, God willing.
An important link to follow the movement of rainy thunder clouds over the region, from here
And Arabia Weather warns during the impact of thunderstorms:
Intensity of thunderstorms.
The danger of wadis flowing due to heavy rains in some narrow geographical areas.
Intensity of downward winds associated with thunderstorms.
Danger of reduced horizontal visibility due to dust waves caused by downward winds.
This article was written originally in Arabic and is translated using a 3rd party automated service. ArabiaWeather is not responsible for any grammatical errors whatsoever.