Weather of Arabia - The weather systems in Oman are represented by the concentration of an atmospheric temperature depression in the west of the Sultanate in conjunction with the rush of humid southwestern currents from the Arabian Sea. This depression contributes to the emission of rising currents that enhance the process of building rain clouds, so that cumulus thunder clouds are active in some areas during the coming days.
Normal temperatures on Monday
There is no significant change in temperatures on Monday, so that normal and hot summer weather prevails in all regions, and temperatures are in the early forties in all interior regions, while they are in the mid-thirties in the coastal regions, to be around their normal rates for this time of the year. The winds will be northwesterly in the northern states and southwesterly in the central and southern parts, so that they are generally light to moderate in speed, sometimes active after noon hours, and they are dusty and dusty in some areas, especially the desert.
During the night hours, the weather is generally warm in all regions, surface moisture levels are high and fog forms on parts of the coasts overlooking the Arabian Sea, especially the Dhofar Governorate.
Unstable weather conditions in some areas
Some clouds appear at high and medium altitudes, interspersed with some cumulus clouds, after which heavy showers of rain fall in some narrow geographical areas on limited parts of the Al Hajar Mountains and the surrounding areas, especially Al Hajar Al Sharqi, and autumn activity on Dhofar Governorate and the city of Salalah.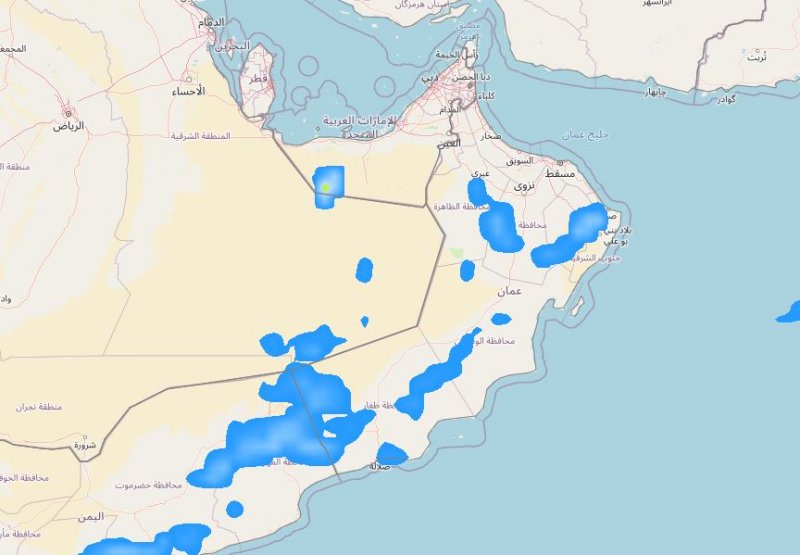 As for the coming days, it is expected that temperatures will continue around their normal rates, with the continuation of opportunities for local formations of rain in parts of the Hajar Mountains and neighboring areas, in addition to the desert areas.
This article was written originally in Arabic and is translated using a 3rd party automated service. ArabiaWeather is not responsible for any grammatical errors whatsoever.