Arab Weather - The numerical models processed internally in Arab weather indicate that the normal summer weather will continue to prevail in Oman during the next week, as temperatures are around their normal rates in most areas, while the southeast monsoon continues to blow, which leads to the proliferation of clouds. Thunder and rain showers in parts of the Al Hajar Mountains and adjacent areas, in addition to the coasts of Dhofar Governorate.
Normal temperatures all days of the week
Temperatures will continue around their normal rates during the next week in most regions, so that normal and hot summer weather prevails in all regions and temperatures in the beginning of the forties Celsius in all the interior regions, while it is in the beginning of the thirties in the coastal areas, and the winds are northeast in the northern and southern states. Eastern in the central and southern parts, so that it is light to moderate in speed in general, sometimes active in the afternoon hours and is exciting for dust and dust in some areas, especially the desert.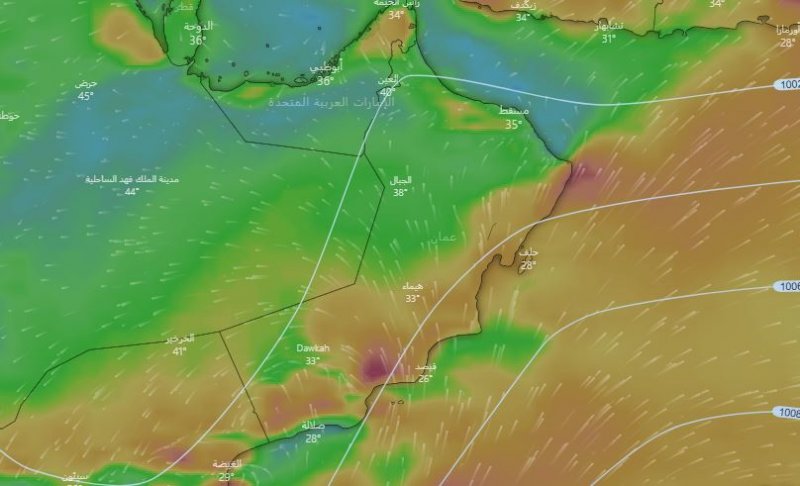 During the night hours, warm weather prevails in general, and humidity levels rise, and during the late night hours there is an opportunity for fog to form in parts of the coasts of Oman, especially the coasts of the governorates of Dhofar, Al Wusta and Al Dakhiliyah.
You can follow satellite images, moving clouds, lightning monitor, and rain radar.
Unstable weather conditions in many areas
Some clouds appear at high and medium altitudes, interspersed with some cumulus clouds, after which heavy showers of rain fall in some narrow geographical ranges on parts of the Al Hajar Mountains and the surrounding areas, so that the rainfall is concentrated on the western stone, coinciding with an increase in the frequency of autumn activity The governorate of Dhofar and the city of Salalah, and the rains are of varying intensity in general with their intensity at times, and are accompanied by the activity of surface winds, which raise dust and dust in some areas.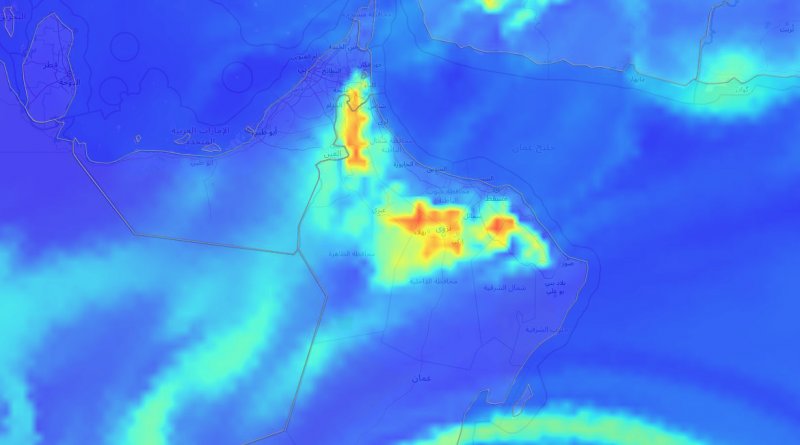 As of Wednesday, as a result of the increasing progress of the tropical separator towards Oman, it is expected that the chances of rain will improve on Al Hajar Al Sharqi, in conjunction with the concentration of an atmospheric temperature depression in the region, which contributes to the emission of rising currents that enhance the process of building rain clouds.
This article was written originally in Arabic and is translated using a 3rd party automated service. ArabiaWeather is not responsible for any grammatical errors whatsoever.