Weather of Arabia - The reasons for the formation of heat waves around the world are similar, but the desert climate in general and the climate of the Arabian Peninsula in particular revolves around the mechanism (physical, meteorological, mathematical and chemical) behind the formation of heat waves throughout, and the most prominent reasons:
1. solar radiation
The sun is the first source of energy and is the heat provider for the planet, and the atmosphere and surface absorb and reflect these rays, and the ability of a body to reflect the light falling on it from a light source such as the sun depends on the "albedo" ratio, which are the values of the radiation reflected in the desert.
It also shares the effect with solar radiation, both terrestrial radiation and atmospheric radiation.
2. upper air altitude
The subtropical rise in the atmosphere (rising geotension values) contributes to the occurrence of what is known as the "heat dome" phenomenon, which would increase the values of sinking air currents - where the air compresses in the lower layers of the atmosphere, causing a rise in temperatures.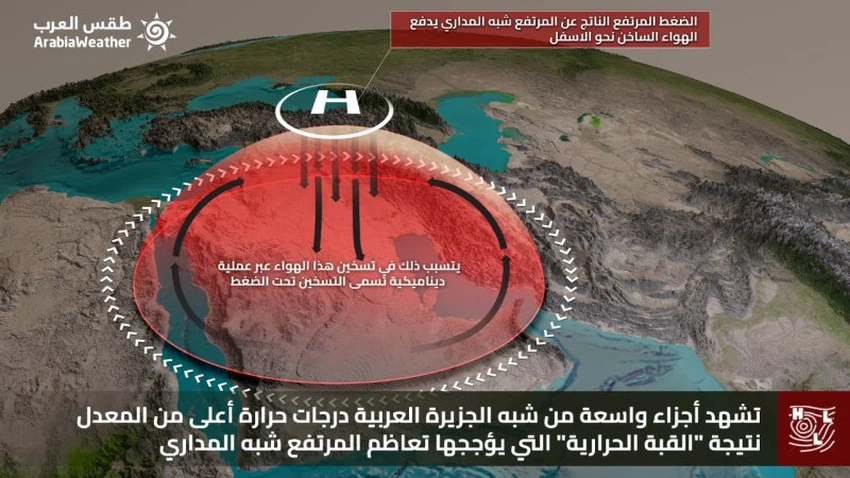 The occurrence of "deep upper elevations" in the summer of the Arabian Peninsula is associated with the flow of eastern winds in the stratosphere of the tropics, because they are low in ozone and thus raise the temperature of the upper troposphere.
3. Thermal depressions
As for the thermal depressions, their formation is closely related to solar radiation and dry deserts through a process known as meteorologically (Conduction), where the land heats the layer near it and a floating process occurs in a narrow vertically area.
There are also types of thermal depressions:
Sometimes they are part of baroclinic systems (winter depressions preceded by thermal depressions), such as the pentathlon coming from North Africa.
And another part is a pure barotropic system, and it is in the form of (bubbles) sporadically in the east of the Arabian Peninsula.
4. Landforms of eastern Arabia
Finally, the terrain. The area extending from Iraq in the north, down to the Persian Gulf Basin and up to the Empty Quarter, is a low area close to sea level, so it is a theater for the activity of Bubble Heat Low's and therefore acquires high temperatures.
All of the above can be summarized by the fact that the dominance of the semi-tropical high over the Arabian Peninsula acts as a barrier against the incursion of the less hot air from the north, in addition to the deep activity of the thermal depressions in the Arabian Peninsula that increased the heat, and it should be noted that the weather's dominance over any place in The world, including the Arabian Peninsula, cannot be caused by a specific weather phenomenon, but rather be the result of many weather phenomena.
God created the Public
This article was written originally in Arabic and is translated using a 3rd party automated service. ArabiaWeather is not responsible for any grammatical errors whatsoever.