Weather of Arabia - Some may think that this waterfall of fire, with its glowing color, is a volcanic magma, but it is just a waterfall resulting from rain water and melting snow, but the waterfall has a distinctive phenomenon that lasts for only a few days at the end of February of each year What is the secret of this waterfall?
Yosemite National Park in California is famous for its stunning landscapes, granite cliffs, and waterfalls, and among the millions of people who visit the park each year, some choose to travel to Yosemite around the third week of February for the rare event of a small waterfall that appears briefly as If it was a waterfall of fire.
The reality of a waterfall that appears glowing like fire
The waterfall of fire appears when sunlight hits the horsetail waterfall, but the sun's rays must pass at the right angle shortly before sunset, to make the waterfall appear to be on fire.
The event is considered rare because this effect of sunlight with flowing waterfall occurs only at that time in the evening when the sky is clear, and some weather conditions such as fog or light clouds may reduce the appearance of this effect and may even obscure it.
In 2019, the fire waterfall phenomenon was shown on a large screen so that all visitors to the park could witness the amazing spectacle, and fortunately all the ingredients were in place for the phenomenon to happen perfectly.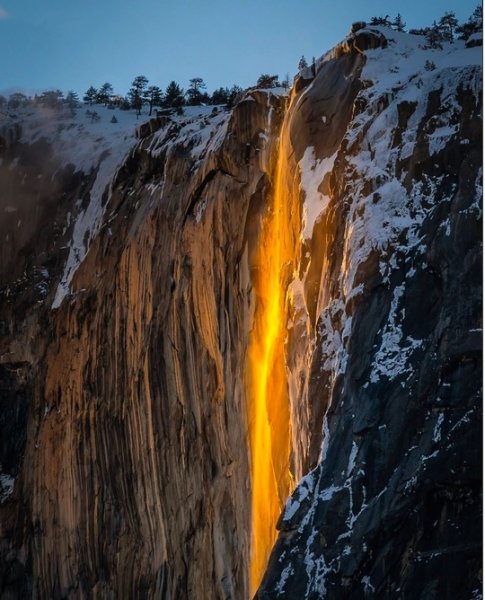 As for the year 2020, it was expected that the sunset would be at the best angle with the waterfall, for the waterfall of fire phenomenon to occur between February 21-23, but the phenomenon did not occur due to the absence of the water that makes up the waterfall, as there was not enough rain or snow in the Yosemite, the waterfall dried up after a while the area was affected by dry weather.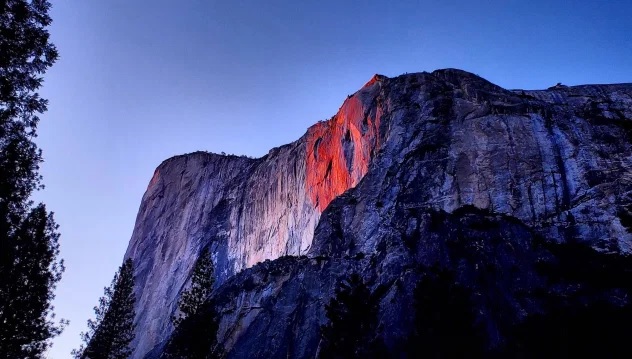 In 2021, with the increasing interest of visitors in watching the fire waterfall phenomenon, the park extended the viewing season arrangements until Sunday, February 28, and the viewing hours were set daily from noon until 7 pm, when the waterfall appeared glowing in a charming orange.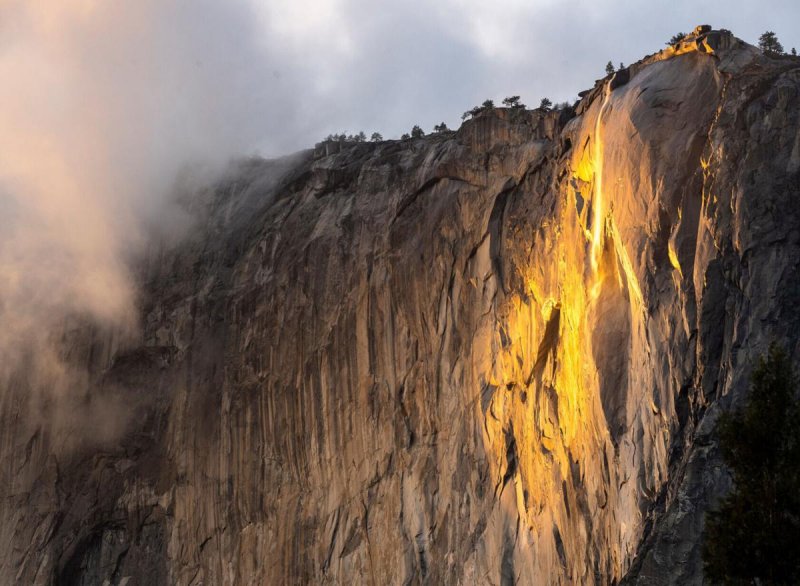 And this year 2022, the famous spot where the waterfall appears in Yosemite Park was dead before the middle of the month, but it came back to life after the storm that affected the country recently, which supplied the waterfall with water. Due to the growing popularity of "Fire Waterfall" this year, the park management implemented some new rules without the need for advance reservations, and this is a picture of the waterfall this year: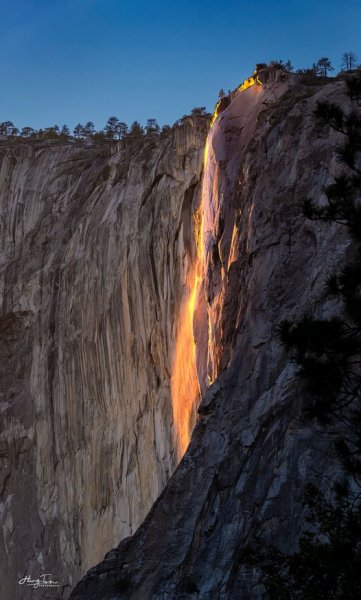 This article was written originally in Arabic and is translated using a 3rd party automated service. ArabiaWeather is not responsible for any grammatical errors whatsoever.