The Ritual of Arabia - On October 12, 1492, Christopher Columbus arrived in islands in the Bahamas and raised the Spanish flag, declaring that these islands had belonged to King Ferdinand and Queen Isabella.
Great difficulties .. and the eclipse calendar saved
Columbus thought he had arrived in Asia from the West. Although this trip is the most historic in history, Columbus returned to the Americas three more times during the next decade and carried his travels to the Caribbean islands, South America and Central America.
On his last trip, Columbus Cadiz left Spain in 1502, and after two years of sailing he found himself stuck with a disaffected crew on the northern shore of Jamaica, after his ships stormed Dodd ate its wood and left it pierced with water leakage. Soon, the islanders were fed up with the new arrivals, among them by their looting and the pillaging and looting they perpetrated in the villages, so they refused to provide them with food and food.
Columbus retreated to his ship and contemplated his awkward position, then turned on the astronomical calendars he carried with him, noting that a total eclipse of the moon would occur on February 29, 1504.
Columbus summoned island representatives and warned them that it would scuttle the moon for their failure to help him and his crew.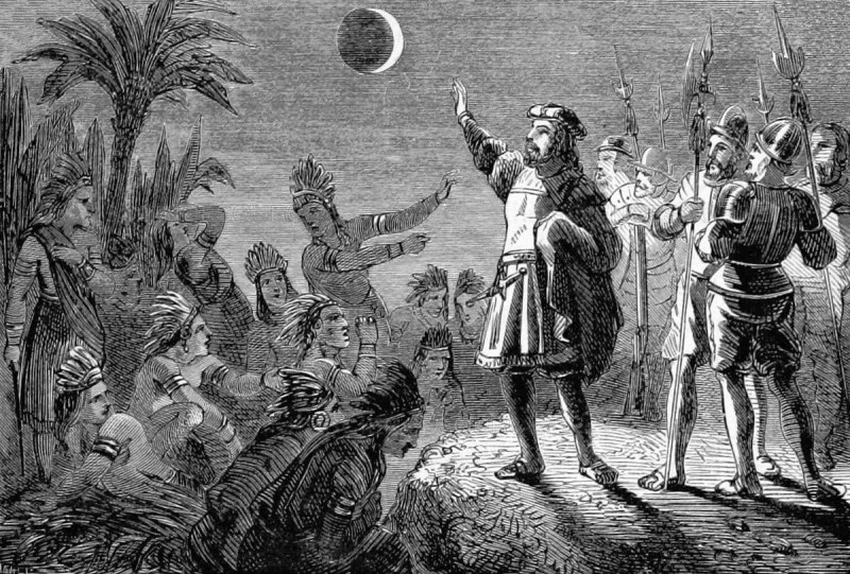 He told them that the moon would hide the moon and then appear an angry flame on the night of 29 February. Indeed, the full moon rose on the expected night, and then the eclipse began to erode from the face of the moon an increasing part until it completely darkened, and a faded red disk remained in the sky.
Islanders panicked at the event and Columbus's prediction, and pleaded with him to forgive them and ask them for mercy from his Lord. The next day, they brought food and did everything in their power to please Columbus and his crew.
On June 29, 1504, a Spanish ship rescued Columbus and his group after a year on the beach, and a few months later landed in Spain to end his travels to the New World.
This article was written originally in Arabic and is translated using a 3rd party automated service. ArabiaWeather is not responsible for any grammatical errors whatsoever.