Weather of Arabia - The authorities in British Columbia, Canada, confirmed the death and loss of three people, after torrential rains, floods and massive landslides destroyed parts of the province, as the Canadian province declared a state of emergency and the federal government promised significant aid.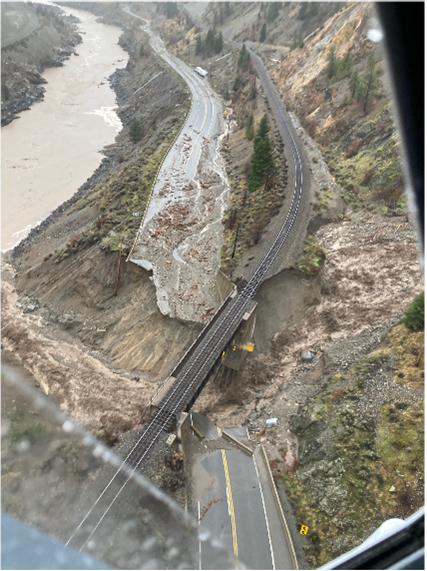 Canadian Public Safety Minister Marco Mendicino said about 18,000 people have been displaced in the Pacific Coast province, and British Columbia Prime Minister John Horgan spoke: "We expect more deaths to be confirmed in the coming days," describing the disaster as a rare event that may happen once in 500 years. .
"We will put travel restrictions in place and ensure that essential goods, medical services and emergency services reach the communities that need them," Mr. Horgan added, urging people not to hoard supplies.
Floods and mudslides have also cut off access to the country's largest port in Vancouver, disrupting already strained global supply chains.
Prime Minister Justin Trudeau said his government would help the province recover from what he called a "terrible and appalling catastrophe". He added that Ottawa is sending hundreds of Air Force personnel to help with recovery and "there are thousands more on standby", as some of the affected cities are located in remote mountainous regions with limited access and freezing temperatures.
As many as 400 people are trapped in Tullamine, northeast Vancouver, and many without electricity, until they had to drop food for them by helicopter, said Eric Thompson, a spokesman for emergency operations for the region. highway.
Food supplies running out
In Hope, 160 kilometers east of Vancouver, residents are running out of food and a quarter of the town's 6,000 residents are looking for shelter. About 100 volunteers spent Tuesday night preparing about 3,000 meals, then chartered helicopters to deliver food to Hope.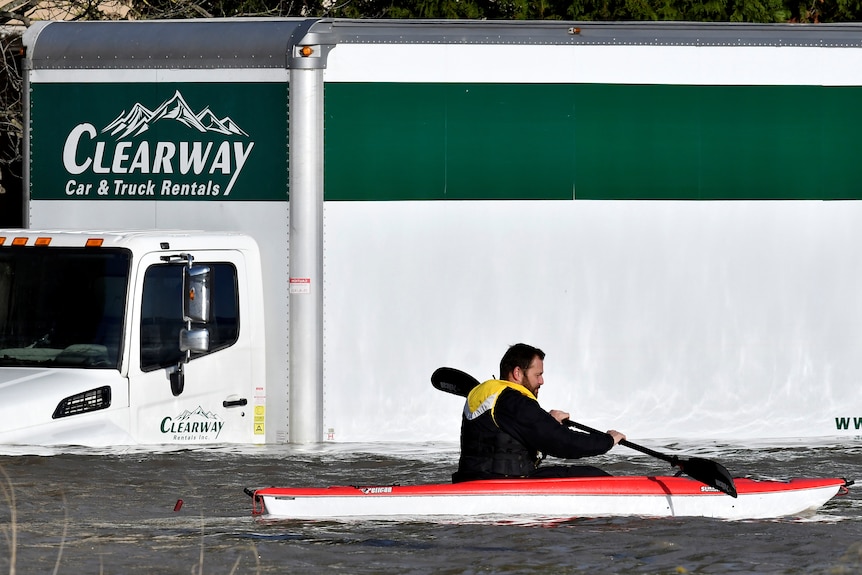 The second major natural disaster in British Columbia this year
Parts of British Columbia witnessed heavy rain, as it fell in two days, equivalent to the rain that falls in a month, which resulted in massive floods that engulfed large parts of the province.
The floods are the second weather-related disaster to hit British Columbia in the past few months, after massive fires in the same area wreaked havoc in late June.
"These are extraordinary events that have not been measured before, and have not been thought of before," Horgan said.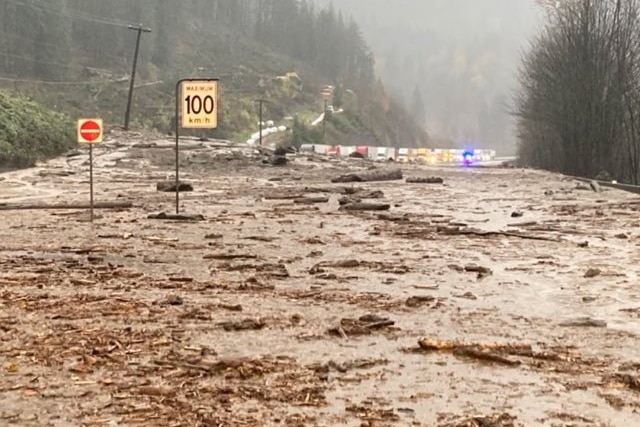 (View of a road near Popcom after mudslides and floods in British Columbia, many roads were cut off by floods)
(The Abbotsford farmers ignored the order to evacuate and tried hard to save the animals from the rising waters, in some cases tying ropes around the cows' necks and dragging them to higher ground.)
Provincial Agriculture Secretary Lana Popham said thousands of animals have died and more animals will have to be killed mercifully.
After a phenomenon known as the "Atmospheric River" flooded parts of the county with a month's worth of rain in two days, officials are concerned that another torrential rain could flood a pumping station near Abbotsford, a city of 160,000 people. East Vancouver, which was partially evacuated, volunteers built a dam around the station to keep out flooding.
This article was written originally in Arabic and is translated using a 3rd party automated service. ArabiaWeather is not responsible for any grammatical errors whatsoever.