Weather of Arabia - a new study says that the Earth has a new moon orbiting around it, or at least a semi-moon, and it will continue to rotate for 1,500 years
It is always wonderful to realize that we are not sailing alone in this vast space, and even if these companions are not sailing with us completely, and this is the case with quasi-moons, which are not moons but they travel in an orbit that combines the sun and the Earth, and today we see a quasi-new moon passing with us on our trip for a while
The "quasi-moon", named "2023 FW13", was spotted by experts using the "PEN-STARS" telescope at the top of the Haleakala volcano in Hawaii, and it is one of the few "quasi-moons" known.
Experts believe that the new "semi-moon" has been in the vicinity of the Earth since 100 BC, and will continue to revolve around the planet for at least another 1,500 years, until 3700 AD, according to the scientific "Live Science" website.
A "quasi-moon" is a space rock that orbits the Earth, but is gravitationally bound to the Sun rather than the Earth. This object is so named "quasi" because of this gravitational connection with the Sun rather than the Earth.
It should be noted that the "2023 FW13" quasi-moon is not the first. Another "quasi-moon" known as "469219 Kamooalewa" was spotted in 2016. At the time, it was believed to be the smallest and closest known satellite.
The "Pen-Stars" observatory in Hawaii observed the "semi-moon" known as "2023 FW13" for the first time on March 28th. The official discovery was made on April 1 after additional observations from the Canada France Hawaii Telescope at Mauna Kea, as well as observatories at Kitt Peak and Mount Lemon.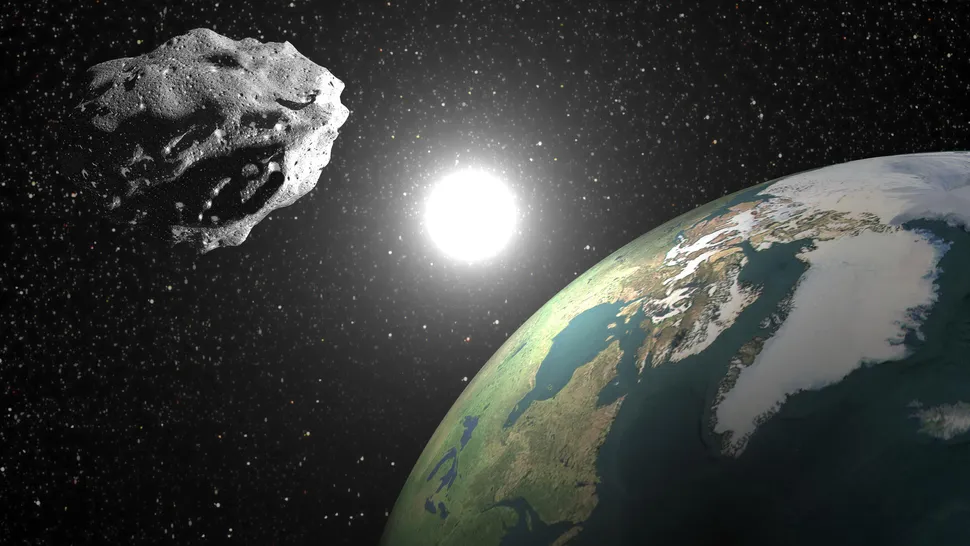 An illustration of an asteroid orbiting the sun alongside Earth, much like the newly classified quasi-moon (Image credit: Zoonar GmbH / Alamy Stock Photo)
2023 FW is compact, not much larger than a four or five story building.
From our planet's point of view, it orbits us at an average distance of 26.9 million kilometers (16.7 million miles), yet it is not a moon. The reason why this object and other quasi-moons experience strange orbits is because they are synchronous in their orbits with Earth. This means that it completes a complete revolution around the sun at the same time that our planet does.
However, it does bypass Earth's gravitational zone of influence, known as the "Hill field," which extends up to 1.5 million kilometers (about a million miles) away. And the movement of quasi-moons with Earth is a coincidence and not a result of our planet's strong gravity.
In fact, it comes and goes constantly. The most stable known quasar is 469219 Kamoʻoalewa, which was discovered in 2016. This object may have been part of the Moon, orbited Earth for more than a century, and will continue to do so for centuries to come.
Preliminary analyzes of 2023 FW by French astronomer and journalist Adrien Couvenet suggest that Kamoualiwa's record may be surpassed by this newly discovered object. This object may have been around since at least 100 B.C. and will be with us for a long time.
The new quasi-satellite is a small rock in cosmic standards. Image Credit: Nazarii_Neshcherenskyi/Shutterstock.com
This article was written originally in Arabic and is translated using a 3rd party automated service. ArabiaWeather is not responsible for any grammatical errors whatsoever.