Weather of Arabia - On Tuesday, the Mexican Parliament presented a somewhat unusual event in the capital, sparking controversy about the existence of extraterrestrial beings. During a hearing about unknown anomalous phenomena
Reports of the remains of strange non-human creatures found in Peru have sparked the interest of the Mexican Parliament. These mummified remains, which were displayed before Parliament in window boxes, were allegedly recovered from Cusco, Peru in 2017. According to what the British newspaper "Daily Mail" quoted from the Mexican media, it turned out that these remains are not part of "the evolution of living things on Earth." ", as 30 percent of its genetic makeup remains unknown. The bodies were documented with pictures showing three fingers and toes, in addition to having no teeth, and were more than 1,000 years old.
Details up close
As the observer in the studio gazes carefully at the two tightly closed boxes bearing glass lids, it becomes clear to him that he is shown mummified corpses. These studios are located in the Mosan office building located in Mexico City's Santa Maria commercial district. These mummified corpses simply resemble humans in terms of eyes, mouth, arms and legs.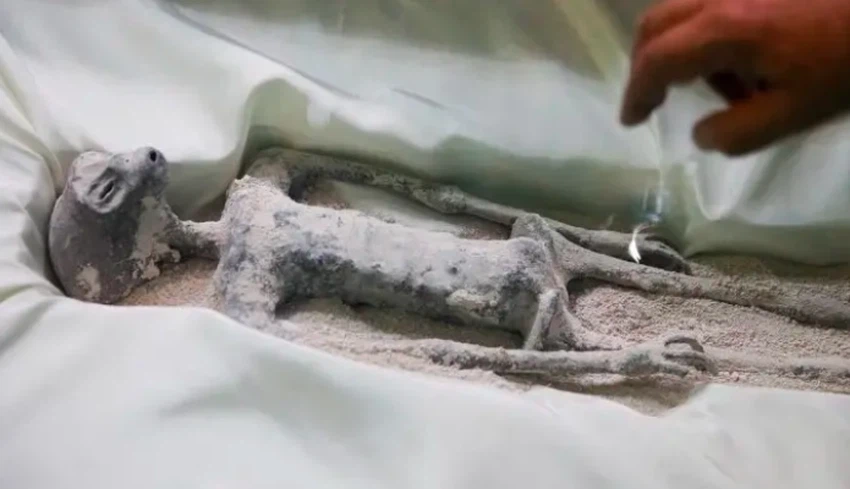 Congressional experts showed X-ray images of the specimens and told House members that one of the creatures they showed carried "eggs" containing embryos. Experts pointed out that the two bodies contained cadmium and osmium, the latter of which is considered one of the rarest precious metals and less common in the Earth's crust.
This event was described as a "watershed" moment by Mosan, a Mexican journalist and alien enthusiast, and is considered the first time that an official dialogue session has been held in Mexico to acknowledge this strange phenomenon. Abraham Avi Loeb, director of Harvard University's astronomy department, appeared via video link and called on the Mexican government to allow international scientists to conduct more research on the specimens.
Controversy about the existence of extraterrestrial life
This unusual event sparked controversy about the existence of extraterrestrial life, and opinions were divided between supporters and opponents. Mosan, a Mexican journalist who is passionate about the theory of the existence of extraterrestrial beings, stated about his campaign to raise awareness of these exceptional scientific results, while sitting in his office, which is decorated with artwork and colorful tools characterized by an alien theme: "This is the most important thing that has ever happened to humanity."
On the other hand, Elsa Tomasto Cajigao, a prominent scientist in the field of biological anthropology in Peru, expressed her dissatisfaction with the continued publication of such allegations, pointing to similar suspicious discoveries that were cast in doubt and considered to be frauds.
As for social media platforms, this event was noticed by many individuals, who started sharing this content and expressing their opinions about it.
The Mexican Congress's discovery of the corpses of "non-human" creatures in Mexico is a mysterious and dramatic event that draws the world's attention to the complexities of life and the environment on planet Earth. Therefore, these phenomena should be an opportunity to promote scientific research and critical thinking about the relationship between humans, the environment, and the world in which we live.
---
Sources:
This article was written originally in Arabic and is translated using a 3rd party automated service. ArabiaWeather is not responsible for any grammatical errors whatsoever.