Arab Weather - After nearly 3 days of orbiting around the planet, the debris of the Chinese missile (CZ-5B) returned to Earth on Saturday (Lulu 30) at approximately 16:45 GMT, and the residents of Kuching in Malaysia documented the first moments of the remnants entering the atmosphere Earth's atmosphere, where it burned and disintegrated parts appeared glowing in the sky.
China's space agency later gave the coordinates of the wreck's drop zone in the Sulu Sea, about 35 miles (57 kilometers) off the east coast of the Philippine island of Palawan.
"Most of the parts of the rocket were destroyed during re-entry," the agency said of the remains of the rocket that was used last Sunday to launch the second unit of the new Tiangong space station. Objects generate huge amounts of heat and friction when they enter the atmosphere, causing them to burn up and disintegrate. But the remnants of the Long March-5B were large, which means they may not be completely destroyed.
For its part, the Malaysian Space Agency said it had spotted the wreckage of the rocket burning on re-entry, before falling into the Sulu Sea, northeast of Borneo Island.
She added that "the debris of the missile ignited while entering the airspace of the Earth, and the burning debris crossed the Malaysian airspace, and it was monitored in several areas, including crossing the airspace around the state of Sarawak."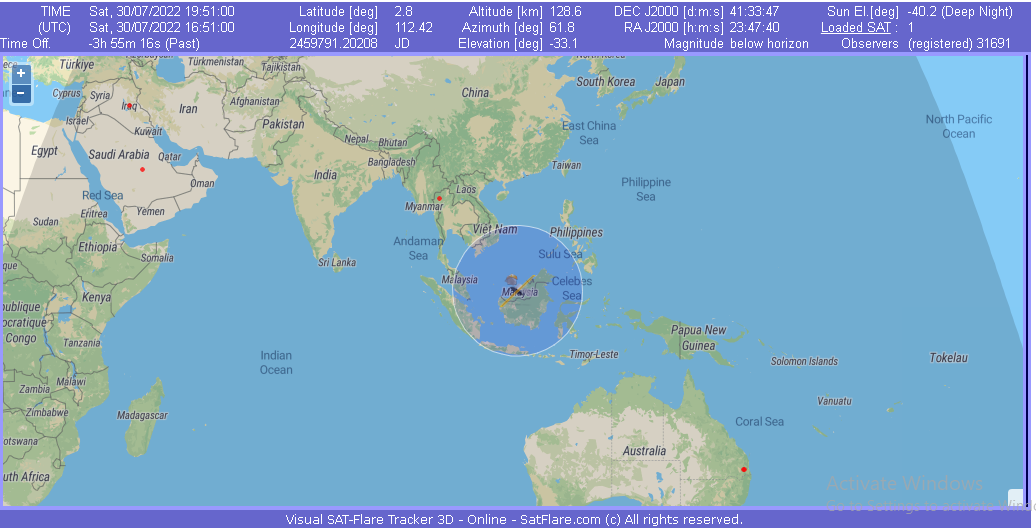 (The map shows the location of the Chinese missile debris entering the Earth's atmosphere)
The Tiangong space station is one of the goals of Beijing's ambitious space program, and China has poured billions of dollars into spaceflight and exploration as it seeks to build a program that reflects its position as a rising global power.
As part of its efforts to complete construction of its space station, last week China sent the second unit to the space station by a Long March 5B rocket. The unit successfully connected with the station's base unit on Monday and the three astronauts who have been living in the main compartment since June to the new unit successfully.
It is reported that this is not the first time that China has left the remains of a missile to return to Earth uncontrollably. When China launched the first unit of the Chinese space station in April 2021, there was similar concern about the possibility of damage due to the return of the remains of the missile uncontrollably.
And in 2020, debris from another Chinese missile landed on villages in Ivory Coast, causing structural damage but no injuries or deaths.
Related topics:
The world's concern about the Chinese missile... Is it real or just media exaggeration?
What is the story of the Chinese missile and how it became out of control?
This article was written originally in Arabic and is translated using a 3rd party automated service. ArabiaWeather is not responsible for any grammatical errors whatsoever.