Arab Weather - weather maps through the Badr system developed by Arab Weather show expectations of a hot air mass of African origin rushing from the African desert, and it is expected to gradually spread to large parts of western and central European continent during the coming days, and cause a heat wave amid indications of continued impact This heat wave is until the middle of next week.
According to Arab weather forecasts, it is expected that the heat wave will directly affect Spain, France, the Netherlands, Belgium and Britain in the coming days, so that temperatures will gradually rise in those areas to exceed their normal rates by more than 10 degrees Celsius, so that hot, exhausting and dry weather will take place amid thirty temperatures in the Most regions, including the capitals of the aforementioned European countries.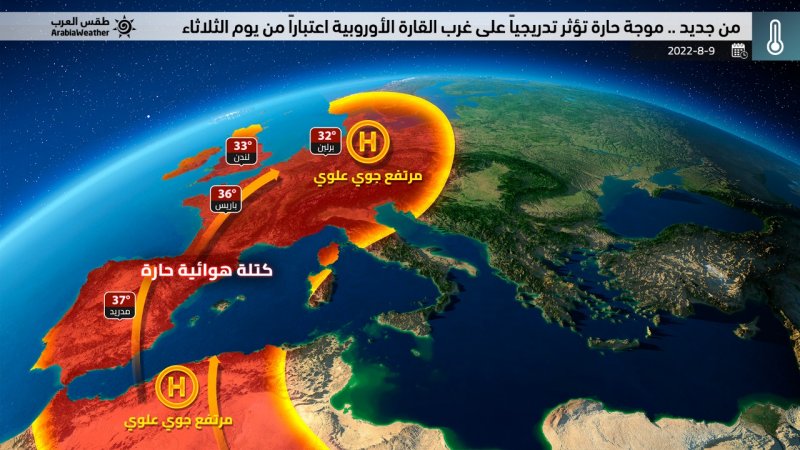 According to the same weather maps, it is expected that the hot mass will penetrate into the depths of the European continent early next week, causing a heat wave in the western parts of the center of the old continent, to include large parts of Germany, Belgium, the Netherlands, Switzerland and even parts of the British Isles, coinciding with the decline in its impact on the parts Southwest of the continent, with the effect of the heat wave receding from most parts of the continent on Wednesday.
It is noteworthy that the African continent is the source of heat waves affecting the European continent, as the upper air rise has rapidly begun to intensify in North Africa during the past two days, accompanied by a hot air mass, so that this stubborn air rise in the upper layers of the atmosphere heats the air in the lower layers of the atmosphere due to A dynamic process characterized by heating under pressure, by the recoil of rising air currents from the Earth's surface, and the emission of "sunken currents" causing a sharp and significant rise in temperatures.
God knows.
This article was written originally in Arabic and is translated using a 3rd party automated service. ArabiaWeather is not responsible for any grammatical errors whatsoever.