Weather of Arabia - NASA's Hubble telescope has identified a giant comet with a nucleus 50 times larger than usual, heading towards Earth at a speed of 22,000 miles per hour (about 35,000 km/hour), which is larger than any comet that astronomers have seen before.
The comet's ice core has a mass of about 500 trillion tons and a width of 85 miles (137 km), larger than the US state of Rhode Island.
The comet was first observed in 2010, but only now has the Hubble telescope confirmed its huge size. Scientists have long suspected the comet's massiveness because it was so bright from a great distance, and now they have been able to confirm it.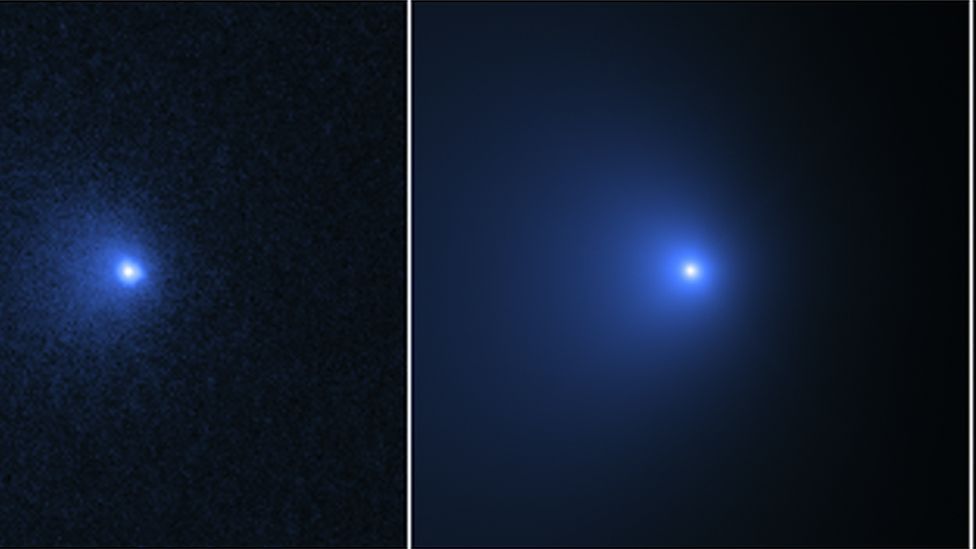 (Hubble Space Telescope takes a picture of a comet's nucleus on January 8, 2022, astronomers have come to an accurate measurement of the size of the nucleus, which is no small feat from a distance of about two billion miles)
(Comparing the size of the nucleus of the giant comet C/2014 UN271 with other comet nuclei)
The comet, named Bernardinelli-Bernstein (C/2014 UN271 (Bernardinelli-Bernstein)), has been in an elliptical (elliptical) orbit for three million years, putting it away from the Sun by about half a light-year.
The comet is now located less than two billion miles from the sun, as it approaches almost perpendicular to the plane of our solar system, and the closest point it will reach will be within a billion miles from the sun, and that will not be until 2031, after which it will return to the Oort cloud. Cloud), a huge reservoir of distant comets that surround the Solar System, extending many billions of miles into space.
Comets are solid bodies made up of ice and rocks, often called "cosmic snowballs". They were found from the remnants of the planet's formation period, and came out of our solar system under the influence of gravity between the huge planets, and settled in the Oort cloud, and these bodies revolve around the sun, and when they approach Most of them are heated and two tails begin to extend behind them. The first is composed of gas and dust, and the second is made up of electrically charged gas molecules or ions, which is the ionic tail.
This article was written originally in Arabic and is translated using a 3rd party automated service. ArabiaWeather is not responsible for any grammatical errors whatsoever.